1894 - 1919: Strength in numbers
Produce members work together to solidify growing trade
No one really admits to liking rules, but for the burgeoning fresh produce industry, rules were what it took to unify the business at the turn of the 20th century. Instead of an "every man for himself" approach, business in the early 1900s shifted from individualized operations to organized efforts.
Setting Standards
Originally producers sold product on consignment through "commission merchants" who were charged with finding buyers, setting the price, selling the product, taking their own cut of the loot and passing along the profit to the grower. This system provided a way to move larger loads further away from the original growing region. But commission merchants could reject a load if the market bottomed out or inflate prices.
As a byproduct of corrupt marketing, industry leaders noticed that no federal laws existed for this type of trade. 
Later, during World War II, the government attempted to stop crooked dealers. "… It was unlawful to hoard food commodities or to engage in any unfair or wasteful practice or to make any unreasonable charge in connection with the sale of food commodities," according to the U.S. Food Administration.
The wartime regulations opened the eyes of the industry further, allowing them to see how rules and regulations made the produce business more fair. 
Rise of Industry Trade Associations 
Industry leaders found that banding together helped with marketing efforts too.
In 1895, more than 80 apple companies from 22 states gathered to form the industry's first formal trade association: The National Apple Shippers Association (today the U.S. Apple Association). 
The group, as a collective voice, vowed "to elevate the trade to the highest possible standard," reported The Packer's 100 Years of Produce: Remembering the 1890s. The first order of business was to set a standard pack: a flour barrel. Grade standards were next, including classes A and B for size.
Capitalizing on Communication
Another huge advantage to forming a trade association was improved communication throughout the industry. As a group, apple handlers realized that gathering crop condition reports from all regions was valuable to everyone. Not only could they discuss volume, but they could learn about different varieties and discuss production problems.
The Western Fruit Jobbers Association organized in 1904, setting out to settle issues in transportation. The practice in those days of peddlers selling perishables from railcars infringed on wholesalers' business directly, so as a group they urged the American Railway Association to stop this damaging practice—a move that would've had virtually no effect without collaboration from the 86 member firms.
Family farmers in Arizona and California formed the Western Growers Protective Association in 1926, as transportation issues also threatened their segment of the industry. When rail lines enacted a 20% standard refrigeration fee that same year, growers took action. Seven farms fought the increase — and won.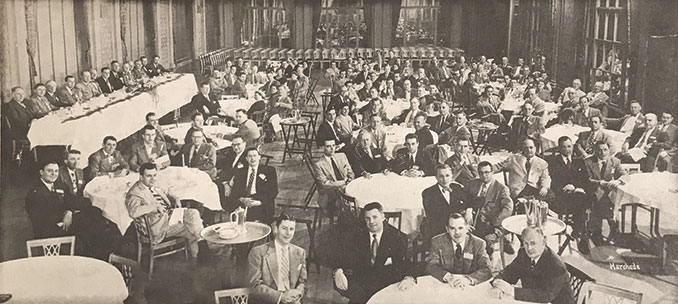 Vying for a Voice
The collaborative efforts of produce companies gave the early industry one thing it had lacked: a voice.
"In many ways, the early success of the Western Growers Association defied the prognosis of contemporary agricultural leaders," notes The Packer's 100 Years of Produce: Remembering the 1920s. " … it was not thought possible that an industry in the hands of independent operators each marketing his own products could find a common ground. They did." 
Independent retailers banded together in 1906, forming the National Wholesale Grocers Association. 
This legacy of pooling collective influence endures. Western Growers continues to advocate for legislative matters that will benefit the entire industry. 
And more than 30 years after its inception, the Western Fruit Jobbers Association merged with American Fruit & Vegetable Association in 1937 to form the United Fresh Fruit and Vegetable Association. Today, United Fresh 
"… brings together members across every segment of the supply chain to build relationships that are as solid with a handshake as with a contract ... we unite our industry with a common purpose—to build long-term success for our members, and grow produce consumption,"
- according to its mission statement. 
Related articles: