One-quarter of consumers said they purchased this hearty vegetable in the past 12 months; the likelihood of a squash purchase slipped one percentage point from last year.
Affluent consumers in the top income bracket were twice as likely to buy as those earning less than $25,000 annually; in fact, there was a clear line at the income level of $50,000 that separated those most likely to buy. The likelihood of a purchase increased according to income for the seventh straight year.
Age also played a role, with shoppers age 59 and older being among the most likely to buy squash overall. Western shoppers were more apt to make a purchase than those in other regions, a trend now in its third year.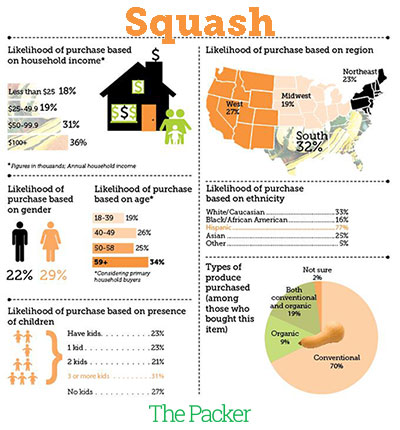 One-third of Caucasian shoppers selected squash in the past year, making them the top purchasers when looking at ethnicity. African American shoppers and Hispanic consumers were the least likely overall to buy squash.
Interest in organic squash remained relatively even from last year, as 28% of buyers said they picked up organic product at least some of the time. Nine percent said they always grabbed organic squash, a number down one percentage point from last year.