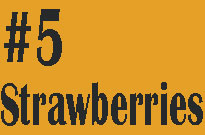 These attractive red berries tied with grapes for the title of No. 2 fruit in the Fresh Trends 2019 survey (although the title of No. 1 fruit also saw a tie this year between bananas and apples). The berries were the sixth most popular commodity overall this year.
Strawberries are popular among all segments of the population. Three-quarters of shoppers age 59 and older said they bought the red fruit in the past year, which makes them the most likely group overall to buy.
For years, families with kids had been more likely to buy strawberries than those without kids, but Fresh Trends has seen a shift in that trend during 2018 and 2019. This year families without kids, at 64%, were more likely to buy strawberries than those with kids, at 61%. Consumers with one child living at home were more apt to make a purchase than those with more kids at home.
The likelihood of a strawberry purchase generally increased according to income, with consumers earning $100,000 or more annually being among the most likely to buy overall.