Once a grassroots effort, sustainability is a popular movement these days that encompasses anything environmentally friendly. Consumers are going green at increasingly fast rates, and because of efforts highlighted on the news and social media, they want to play an active role.
Organic fruits and vegetables tie perfectly into modern day ecofriendly trends, providing not only a healthy food choice but a "feel good" option that consumers are quick to embrace. For the fresh produce industry, it's a marketer's dream.
Sales of organic fresh fruits and vegetables increased from $5.8 billion in 2017 to more than $6.3 billion in 2018, according to data from IRI/FreshLook Marketing. Volume sales increased from 2.07 billion pounds of organic produce to more than 2.21 billion pounds over the same period.
Organic Produce Makes its Mark
When considering the sustainability factor, 37% of respondents to Organic Fresh Trends 2020 said that organic growing practices were "most important" or "very important" to them. Demographic background seemed to influence this opinion. African Americans, Asians and those in the "all other" demographic group were the most likely to rank organic growing of top importance.
While consumers may like the "feel good" satisfaction of selecting organics, it's clear that food safety is the underlying reason for most purchases. Six in 10 consumers said they purchased organics because they wanted to avoid chemicals in their food—a number exactly even with findings from Organic Fresh Trends 2019. Families with two kids living at home and shoppers age 50-58 were the most likely to note that food safety was the prime reason for their organic produce purchase this year.
The related topic of "personal health" was also important to shoppers, with 42% of respondents saying they made an organic purchase because they were trying to improve their health in the past year. (Midwesterners, consumers age 40-49 and Asian shoppers were most likely to cite this reason for an organic purchase.) Social responsibility was important to only about one-third (34%) of shoppers.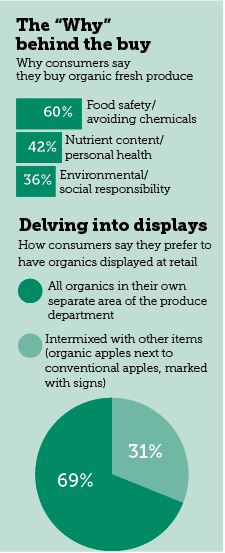 Attracting Attention
Half of organic shoppers grabbed their organic produce at either a traditional regional supermarket like Safeway, Publix or Kroger or a chain superstore like Walmart, Target or Meijer. Each of these outlet formats saw the support of 25% of organic shoppers. Dedicated nutrition fans stocked up on organics at specialty markets like Whole Foods, Sprouts or Trader Joe's, with 19% of buyers selecting these outlets as their top source for organics—Western consumers and those age 50-58 were most likely to shop at specialty markets. About half as many shoppers picked up organic fruits and vegetables at chain discount stores like Aldi, Save-a-Lot or Food 4 Less formats.
At retail, making organics stand out is a surefire way to attract most consumers. Nearly seven in 10 shoppers (69%) said they preferred to find organics displayed in their own section, not intermixed with commodities (like organic apples next to traditionally grown apples).
Consumers age 59 and older and those with more than one child at home were mostly likely to want organics grouped together. Shoppers in the "all other" demographic group and those age 50-58 were the most likely to want organics intermixed by commodity in displays.
When asked specifically about what thoughts drive the decision to purchase organic produce, 88% of respondents said that packaging made the difference. These shoppers felt that the packaging of organic produce made the product more convenient to select, and thus influenced them to grab organic product. 
While shoppers can be influenced in-store relatively easily, digital marketing is still gaining a foothold. Only 16% of respondents to Organic Fresh Trends 2020 said they would likely be influenced by social media if the store posted videos on the benefits of organics versus traditionally grown produce. However, that often won't stop them from sharing a hashtag or photo on Instagram of some picture-perfect product. Marketers who promote organics via both platforms will likely have the most success.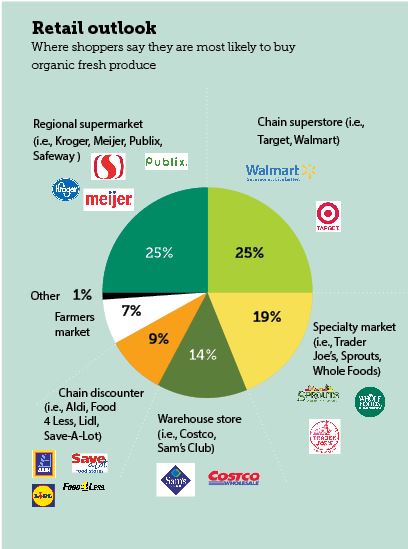 The Packer's Global Organic Produce Exposition & Conference (GOPEX) provides a forum to meet the rapidly changing needs of professionals who grow, distribute, pack and market organic produce. This international trade show and conference provides the ideal opportunity for organic produce professionals from around the world to network, exchange ideas, source new products and services, and do business with the industry's leading growers, distributors, packers, marketers and retailers. 
Related content:
Organic produce industry eyes sustainable packaging
GOPEX delivers energy, insight into organic produce
Retail panel takes global look at organic produce