( Content and Photo created by Farm Star Living, an independent company. )
One of the best parts of summer is the sweet, delicious fruit that's in season right now! Here are tips on how you can pick the best ones and make them last longer, plus how they'll add to your overall good health!
The fruits that have all of us excited are these summer peaches, nectarines, apricots and plus that were grown by the fresh fruit experts Trinity Fruit Company, located in the Central Valley of California. They have been passionate and dedicated to growing fruits for every season — like these conventional and organic "stone fruit" that you can find from their signature brand Farm2You.
You might be asking what exactly is a "stone fruit?" We'll tell ya! It's called a "stone fruit" because of the stone (or pit) in the center. Best news is that they are all in season now. They are so delicious and the perfect sweet yet healthy treat to enjoy guilt-free all summer long.
Here are tips on how to select and care for four stone fruits that should be on every kitchen counter right now!
Let's start with remembering to rinse off all of these fruits first, and then hand-dry them with care!
First, let's talk about peaches. When picking your peach, choose ones with firm, fuzzy skins that yield to gentle pressure when ripe. Try to avoid any blemishes, too! Store any unripe ones in a paper bag, because it speeds up the ripening process, and then leave it out at room temperature for 1-2 days. And how are these peaches helping your health? They're a great source of Vitamin C, low fat and saturated fat and sodium free.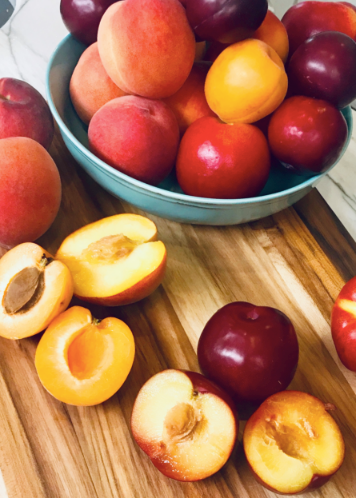 Aren't these apricots beautiful? When selecting, make sure you choose ones that are plump, firm and uniformly colored  as much as possible. Store them out at room temperature until ripe, and then place them in a refrigerator for 3-5 days.
These are also low fat, and they're sodium, cholesterol, and saturated fat free! Plus, apricots have even more benefits — an excellent source of vitamin A and Vitamin C, plus a good source of potassium and fiber.
Plums are in season now, too! I love a great plum, and here's how to tell which ones are best! Choose plump with smooth skin, avoid any bruises and soft spots! Then store any that are still unripe in a paper bag, and once they feel ripe, refrigerate them!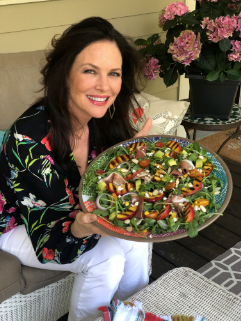 Nothing better than a cool plum on a hot summery day! They're also a great a source of Vitamin C, low-fat, and saturated fat, cholesterol and sodium free.
Then there is the juicy, sweet nectarine, which I also love to add to my summer salads as well! Choose ones that feel firm with smooth skin, and eat up!
If they're still a bit unripe, store them in a paper bag until ripe, and just leave at room temperature for use within 2-3 days. They're a great source of Vitamin C, low-fat, saturated fat free, and sodium free.
So, as you're gearing up for your summer picnics or just looking for healthy yet sweet and delicious snacks, make sure you look for the Trinity Fruit Company'sFarm2You brand, and we're grateful to these farmers for keeping us healthier and making our summers sweeter for more than 20 years now!
Have a happy, healthy and farm-fresh summer!