Consumers are more environmentally aware these days, as sustainability seems to be the buzzword for the new decade. From water conservation to biodegradable packaging, consumers are weighing in on just how committed to the cause they may be. While many claim to be environmentally responsible, the numbers can paint a different story.
Fresh Trends 2020 started out by asking consumers if they seek out environmentally aware or active companies. Nearly two-thirds of respondents (63%) said they did not look for these outlets. Those who were most likely to key in on environmental responsibility included those with kids living at home and young shoppers ages 18-39. Certain ethnic groups—African American consumers, Hispanic shoppers and Asian buyers—were clearly more interested in the environment than other demographic groups. Still, it's worth considering consumers' opinions on this hot topic.
Looking at packaging specifically, 31% of shoppers said they almost always bought fresh produce in bulk to avoid unnecessary packaging.
Nearly half of those surveyed (47%) said that the environmental effects of packaging crossed their minds sometimes—enough to prompt them to buy in bulk when possible. For 22%, convenience won out—they opted for the ease of packaged produce.
Shippers and handlers have room to experiment with sustainable packaging, it seems.  According to Fresh Trends 2020, 55% of consumers said they would be willing to pay more for fruits and vegetables packed in containers made from recycled materials. In fact, 60% of respondents said they'd be willing to pay up to 25% more for produce in recycled packaging, and another 24% said they would go a step further and pay up to 50% more for such produce packs. Once again, shoppers with kids and those in the youngest age bracket were the most likely to say they'd shell out the money for recycled materials.
When asked their preferences with regards to packaging, 43% of shoppers said they'd prefer to buy fresh produce in cardboard or fiberboard containers (like mushroom trays, for example). One-third of consumers listed clamshells as their pack of choice, while nearly one-quarter of respondents (24%) said they'd take it a step further and opt to bring their own container and fill it by weight to keep up with the sustainability movement.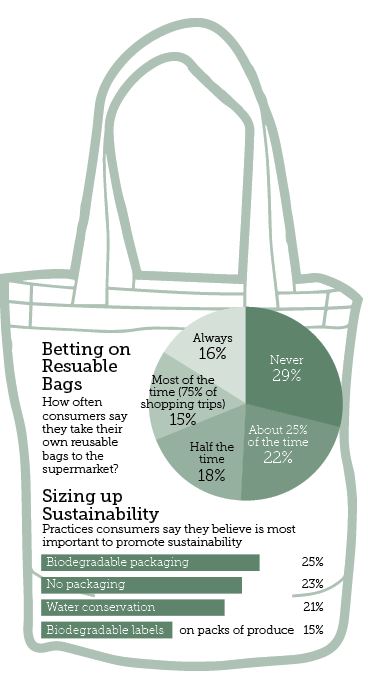 Food waste is gaining more attention these days, not only with regards to feeding hungry people who could benefit from unused commodities, but because unmarketable produce ends up in landfills and becomes an even bigger problem. Despite all that, it seems that consumers hold firm to that "picture perfect" image when it comes to produce. When asked if they'd consider using a delivery service like Imperfect Produce (which sells odd-sized or odd-shaped items that are still perfectly edible) in an effort to combat food waste, the majority of survey respondents (57%) said they would not use such a service.
However, that doesn't mean there aren't some supporters out there. Some said they would employ such a service realizing that it's a way to get quality produce at a good price—47% of respondents said this was a likely reason to try it. Others have a heart for sustainability, with 41% of respondents saying they'd be most likely to try a delivery service of odd-shaped produce as a way to help farmers and the environment.
As with many things, consumers know it's easier to support a movement when someone else is doing the work, according to Fresh Trends 2020. More than six in 10 shoppers (61%) said they would be more willing to shop at a supermarket that they knew did composting of its own to minimize food waste. (Only 28% of respondents said they did their own composting at home.)
Sixty percent said they'd be willing to pay more for produce grown under sustainable conditions (like greenhouse grown)—61% said they'd pay up to 25% more to boost such environmentally friendly efforts.
Packaging efforts are one way that consumers say that the produce industry can promote sustainability. One-quarter of respondents said that biodegradable packaging was a "most important" factor to them when considering sustainability, while 23% said that eliminating packaging altogether would be a top factor. Fifteen percent noted that biodegradable labels on packs of produce (like berries, cherry tomatoes, etc.) was a top priority. Outside of packaging, more than one-fifth of respondents (21%) said that water conservation was a way that the produce industry could help to drive sustainability.
Consumers need to be convinced to join the community-supported agriculture (CSA) movement. Only 14% of those surveyed said they'd be willing to pay a fee for a share of the harvest weekly or monthly via a CSA program, however some more rural communities may not have such opportunities available. And 58% of respondents said they would be more likely to buy produce with a "fair trade" label on it—although this is more along the lines of social responsibility than environmental sustainability—to help create protections for workers like ensuring they're paid a fair wage.
Something shoppers can do is plan for how they take their produce home. About 30% of consumers said they do their part by taking reusable bags to the supermarket at least 75% of the time they shop. However, nearly the same amount said they never take them. (Of course, with proposed plastic bag bans being enacted by eight states and being debated in others, this environmental issue may change quickly.) Regardless, environmental issues remain on the forefront of media coverage, meaning consumers are taking notice of these many issues, even if they're not taking action.