Fruit World's organic Thomcord grapes are available in 1-pound clamshells and 2-pounds paper totes. ( Courtesy Fruit World Co. )
Fruit World Co., Reedley, Calif., plans to be shipping organic Thomcord grapes the first week of August.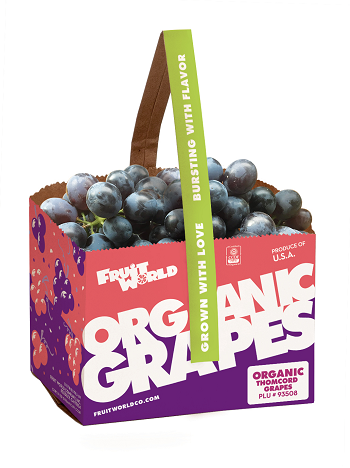 The company has new high-graphic 2-pound recyclable/compostable paper totes, available 10 to a carton. One-pound clamshells 20 to a carton, are also available.
"We're about a week away from harvesting our Thomcords and the crop is looking great," CJ Buxman, co-founder of Fruit World, said in a July 29 news release. "We expect consumers who eagerly await the arrival of these unique and delicious grapes each year are going to be thrilled with them when grocers start stocking their shelves. Demand is always high for this variety, and we anticipate that trend to continue this year."
The company forecasts strong Thomcord volumes with promotable supplies available in late August, and shipments are expected to continue until mid-October.
For the third year in a row, Fruit World has a consumer engagement program, Thomcord Tales, asking consumers to text the company about their experience. The company adds "text me" cards to the Thomcord packages.
"We try to reply to every Thomcord Tales text we get from consumers, and they seem to enjoy the interaction as much as we do," Bianca Kaprielian, Fruit World co-founder, said in the release. "Consumers' love for Thomcords really comes across in their messages, and retailers have shared that this personal touch drives significant repeat sales."
The company has 10 other organic grape varieities, including a limited supply from grower-partner Pete Wolf's heritage vines, according to the release.
Related story: