( Brooke Park )
The fresh produce industry industry continues to find ways to help consumers industry members to cope with the COVID-19 pandemic.
Some recent examples include a wine auction, encouraging families to have fun on a game night and donations of produce to health care employees and people in need.
Brighter Bites
Brighter Bites, Houston, joined New York associations Queens Together, The Connected Chef and City Harvest to help serve Brighter Bites' families in the New York borough.
The weekly produce distribution began April 28 and will continue "as long as necessary," according to a Brighter Bites news release. City Harvest pledged 40,000 pounds of produce to distribute, with neighborhoods in Queens hit hard by the pandemic.
"As an organization, we were adamant that school closures would not stop us from continuing to feed families but we knew that we would need to shift our model," Melanie Button, regional program director for Brighter Bites. "We were impressed with what Queens Together was accomplishing and we reached out to see if they could support. They turned out to be the perfect partner to connect us with the right people and places to get this work done."
Queens Together, started in March creates and manages "last mile" systems to address hunger, according to the release.
The Connected Chef's LifeLine delivery program has served people in need during the pandemic, and will deliver produce to 2,000 Brighter Bites families in Queens.
California Strawberry Commission
The California Strawberry Commission, Watsonville, has implemented I Pick Safety, a campaign to highlight farm worker safety and training practices.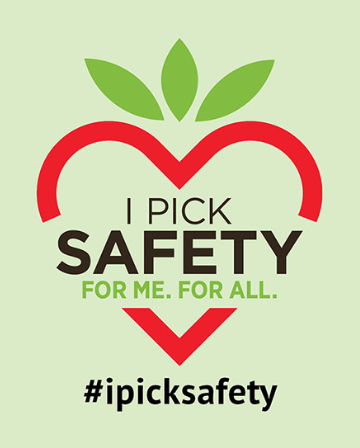 The commission has been recognized for its food safety program, with its train-the-trainer, classroom and in-field programs. As the pandemic progressed, the strawberry group identified how to keep workers safe and healthy, working with government and medical experts, according to a news release.
The strawberry commission has a COVID-19 resource page with dozens of links to workforce training and labor guidance documents, and updates from California county health departments.  
"Strawberries are one of the most labor-intensive crops, and strawberry farmers are working diligently to protect farm workers while providing a consistent supply of this nutritious fruit to consumers," Carolyn O'Donnell, communications director for the commission. "Many strawberry farmers started in the fields planting and picking berries. This gives them a unique perspective and they are very appreciative and protective of their workforce."  
The California Strawberry Commission response includes information on illness prevention training, crew and schedule changes for social distancing during harvest and sanitation practices.
Fleet Advantage
Fleet Advantages' foundation, Kids Around the Corner, has donated to the Jacksonville (Fla.) School for Autism to help furloughed teachers and staff to meet insurance costs.
The effort was organized by Sandy Yawn of Bravo TV's "Below Deck Mediterranean," according to a news release.
"We want to express our appreciation for the individuals who make it their mission to support their local community through the education of children, especially during these unprecedented times," John Flynn, CEO at Fleet Advantage, said in the release. "As many of us continue to feel the effects of COVID-19, Fleet Advantage feels a great responsibility to give back during a time of need."
Kids Around the Corner, founded in 2014, donates a percentage of Fleet Advantages' profits to charities each year.
Natural Delights
Natural Delights brand medjool dates is encouraging families to host a game night with friends, and has launched the Game Night Sweepstakes to engage consumers.The brand is marketed by the Bard Valley Date Growers Association.
The company is providing recipe and game night suggestions through May. Two grand-prize winners, and two of their friends, will receive a game pack valued at $100, according to a news release.
"We wanted to highlight the versatility of medjool dates and ways in which medjool dates can be utilized to liven up a game night spread," David Baxter, brand manager for Natural Delights, said in the release. "With this promotion, we want to engage consumers in a fun way and give them new ideas during this period where we're all spending more time at home."
Entries can be submitted online.
Produce Alliance
The Produce Alliance Foundation's Produce Box Project: Nourish Our Frontlines and Vulnerable Communities continues to help health workers and others during the pandemic.
By the end of the first full week of May, the organization planned to distribute more than 6,800 boxes, weighing 131,500 pounds, according to a release from Produce Alliance, Chicago. Overall, 29 locations in 15 states will have been served since the program began.
Recent donations and help came from Produce Alliance distributors that include What Chefs Want — Denver, Duck Delivery, Katsiroubas Bros., Keany Produce & Gourmet Get Fresh Produce, and Gargiulo Produce.
Recent donations have gone to:
Presbyterian St. Luke's Medical Center, Denver;
Harborview Medical Center, Seattle;
Martha's Table, Washington, D.C.;
Suburban Hospital, Bethesda, Md.;
Evanston School System, Evanston, Ill.; and
Connecticut Children's Medical Center, Hartford, Conn.
To donate to the program, contact [email protected] or visit the group's GoFundMe site.
Produce Marketing Association/Brighter Bites
An online silent auction, Wines for a Cause, will raise money for Brighter Bites, and the Produce Marketing Association is co-hosting.
The auction will be over the Memorial Day Weekend, May 22-25.
With a goal of raising $150,000, Wines for a Cause will help support Brighter Bites' initiative to give families in its program $25 vouchers biweekly over the next two-three months, according to a news release. The program kicked off in Houston and Austin, Texas, through a partnership with retailer H-E-B, followed by a Southwest Florida program with Southeastern Grocers.
"Brighter Bites' Wine for a Cause began as an idea that (Lipman Family Farms CEO) Kent Shoemaker and I developed because of our mutual love for wine and our one common goal: to help at-risk families access the healthy food they need to survive this crisis," Rich Dachman, CEO of Brighter Bites, said in the release. "What began with a few bottles of wine offered from personal collections has exploded."
The wine auction's goal is $150,000. Online registration is available now.
"At a time when many are hurting and hungry, we need to do whatever we can to ensure families and communities have fresh fruits and vegetables on their plates," PMA CEO Cathy Burns said in the release.
For more examples of how the industry is responding to the pandemic, see The Packer's COVID-19 webpage.
Related stories: