All Seasons Produce grows herbs and other products organically in greenhouses with drip irrigation and temperature control. ( Courtesy All Seasons Produce/Evans Growers )

To find the latest news and resources related to conservation agriculture and sustainable food systems, visit AgWeb.com/ACAM.
---
Eva Moghaddam wants to make it easier for every family to find healthier food. 
It's a value that many producers and distributors in this industry share, a value that can coincide with a healthier earth as well, she said.
Several Atlanta area marketers and growers are showing that the two are not mutually exclusive — not even during the COVID-19 pandemic when human health is first and foremost on most minds.
"I learned life is magnificent, and it is a precious gift for everyone and every living thing," said Moghaddam, owner, president and CEO of All Seasons Produce, which handles wholesale marketing and distribution at the Atlanta State Farmers Market, Forest Park, Ga., and Evans Growers, which handles production about 200 miles southeast in Claxton, Ga.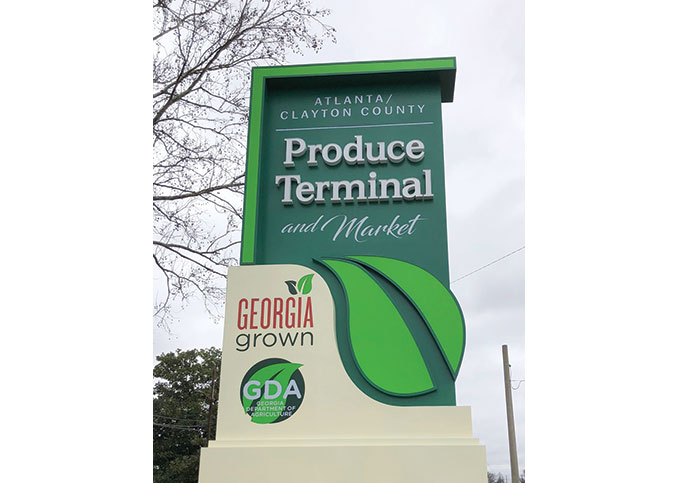 "Every plant, every seed and every little green life is hope, and it is beautiful."
In July of 2019, Moghaddam found a property with 56 greenhouses on 13 acres in Claxton, close to her Vidalia onion farm.
The location seemed perfect for growing organic herbs, of which there is a gap in the Atlanta market, said husband Matthew Moghaddam, general manager and chief financial officer.
After purchasing the property in November, it took the Moghaddams four months to get certified as U.S. Department of Agriculture organic for herbs and peppers. 
They are now growing basil, thyme, mint, mini sweet peppers, red peppers and Anaheim peppers, among other varieties.
"We knew organic growing needs constant sustainability and a controlled environment to succeed, and the greenhouse will be best for organic growth without using any pesticides or chemicals," Eva Moghaddam said.
She had planned for a long time to do organic efficiently through controlled environment agriculture with drip irrigation and temperature controls.
"It's very difficult to do in the field, with irrigation and bugs and diseases," Matthew Moghaddam said.
They saw a demand for more organics before the pandemic because there aren't many companies growing organic herbs in Georgia; most are importing herbs, he said.
All Seasons and Evans Growers has 319 acres of conventionally grown produce too, including cabbage, Vidalia onions, zucchini, squash, broccoli and sweet potatoes, also in Claxton, with a packing house on it. 
In December 2019, Pure Flavor, Leamington, Ontario, kicked off its second winter season using hydroponic methods and transitioned 25 acres as part of Phase 1 to grow exclusively tomatoes in its Fort Valley, Ga., greenhouse, 100 miles south of Atlanta.
The company partners with the Georgia Grown program.
Pure Flavor also has a 60,000-square-foot distribution center in Byron, Ga., about 95 miles south of Atlanta.
Doug Bailey, assistant dean of academic affairs at University of Georgia, led a five-day spring break agricultural tour for students from the College of Agricultural and Environmenal Sciences that included the Pure Flavor greenhouse.
The company's hydroponic growing methods create greater yield than traditional methods and without soil, he wrote in a trip blog.
"These methods allow the company to be sustainable by using less water with less nutrient runoff from plants. To produce their organic products, Pure Flavor uses beneficial insects such as lady bugs and bees to control pests and pollinate plants," Bailey wrote. 
"Pure Flavor brings an important and diverse addition to the face of Georgia agriculture."
At the Atlanta State Farmers Market, Collins Bros. Produce Co., Forest Park, Ga., has more than 400 organic items and about 100 Georgia Grown products for sale.
"Before this COVID-19 came along, there was a big push of locally grown, sustainable agriculture, and there was a lot of talk on what they need to do to engage with the distribution community," said David Collins III, one of the company's owning brothers. 
Most sustainable initiatives have taken a "back seat to this COVID thing," he said, "but I think it's still something people are embracing."
The less fuel you have to use going from A to B, the more efficient you become, he said.
"When you can grow good product here in Georgia, would you bring it from 2,000 miles away when you have right here? I think not," Collins said. 
"I think you're seeing a push toward that and it's a good thing. And hopefully you'll see that continue." 
Related content:
Atlanta's farmers market is pulling out all the stops
Americas Conservation Ag Movement
Atlanta Know Your Market