Bees surround the blueberry blossoms at the Consalo Family Farms Egg Harbor City location. ( Amy Sowder )
EGG HARBOR CITY, N.J. — Skip Consalo stepped closer to the blueberry bushes, his face inches from the crop.
"Listen, hear the bees? They're pollinating the blueberries," said the president of Vineland-based Consalo Family Farms with New Jersey farms in Egg Harbor City and Hammonton.
A 30-minute drive away, amid a green-striped backdrop of crop fields at Flaim Farms in Vineland, a John Deere tractor fork-lifted cardboard boxes of green leaf lettuce.
Meanwhile, co-owner Bob Flaim strode through the warehouse, opening boxes of ready-to-go produce.
As summer heats up, so does the sweetness of New Jersey — with many vegetables and herbs but especially with the supply peak of its blueberries and peaches.
"The blueberry and peach crops look phenomenal. We didn't have any extreme weather this winter, so the plants are energized and looking good," said Francisco Allende, general manager of Sunny Valley International, Glassboro.
May is the month for asparagus, greens, some root vegetables, spring onions and strawberries, but the list grows longer moving into June, July, August and September — the main months for New Jersey fresh produce, according to the U.S. Department of Agriculture. 
Nationally, New Jersey is one of the top 10 producers of blueberries, cranberries, peaches, tomatoes, bell peppers, eggplant, cucumbers, apples, spinach, squash and asparagus.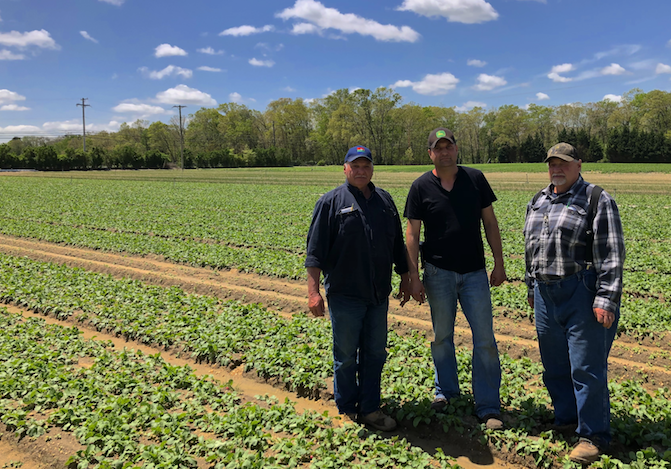 PEACHES
Peach season is primarily July through September, according to the New Jersey Peach Promotion Council. The state has about 80 orchards comprising about 5,000 acres with production values at about $30 million annually. Most commercial orchards are in South Jersey.
Lewis DeEugenio, president of the Jersey Fruit Cooperative and owner of Glassboro-based Summit City Farms, said peaches will start by the end of June. 
"We're looking at a full crop of fruit," DeEugenio said. New Jersey-grown apples will carry the growers into the fall, he said.
Sunny Valley International has been marketing peaches and blueberries since 1995, representing the Jersey Fruit Cooperative, which produces more than a million cases of blueberries, yellow peaches, white peaches and nectarines a year.
Peaches used to be the main crop, but it's moved to mostly blueberries, Allende said. 
"The peach industry is consolidating into fewer growers, but bigger growers," he said. 
Sunny Valley's growers produce about 1.2 million boxes, or 30 million pounds, of peaches — the majority yellow peaches.
Volume for peaches is expected to be about 10% higher this year, said Bob Von Rohr, Sunny Valley's marketing director. 
"Our growers are adding acres because smaller growers are going out of business," Von Rohr said. 
Sunny Valley's peaches should be available July 1 to Sept. 15. 
BLUEBERRIES
From June 11 to July 31, New Jersey blueberries are expected to be available for shipping out of Hammonton, called the "blueberry capital of the world," according to Sunny Valley. 
The company's 11 blueberry growers are reporting great growing conditions, said Bonnie Lundblad, sales representative. In a typical season, the company ships about 1 million cases, or about 9 million pounds, of blueberries. 
"We're expecting a full crop. Right now, the whole East Coast is tracking five days early," Sunny Valley's Allende said. 
"Our window is six weeks, but a very intense six weeks." 
About 95% of the blueberries are duke and bluecrop varieties.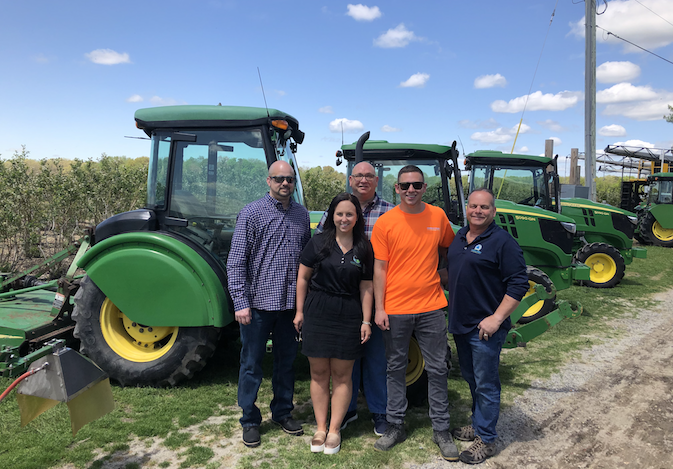 At Consalo Family Farms in Vineland, the start time looks similar, between June 11-13, said company president Skip Consalo. 
In April, the company announced additional acreage that expands its growing and packing capabilities from 8 million to 9.5 million pounds during the New Jersey blueberry deal. Consalo said the new blueberry farm adds 50 acres.
GREENS
By May 20, greens, herbs and lettuces were available in full force in New Jersey, according to the state department of agriculture's Jersey Fresh program.
According to the USDA, the market was steady on May 24 for New Jersey greens at the Philadelphia Wholesale Produce Market, the closest terminal market. New Jersey Swiss chard, red and green, was $12.
Prices have been fair to low, likely because of 2018 romaine safety issues in California, said John Banscher, president of the Vegetable Growers Association of New Jersey.
By May 6, the greens were fragrant and plentiful at Flaim Farms, Vineland, where leafy greens are harvested in spring and fall.
The farm started harvesting green leaf, red leaf and romaine lettuces in late April, said Bob Flaim, who runs the farm with brother Kevin Flaim and Bob's son Ryan and daughter-in-law Brenda. 
Marc Oshima, cofounder and chief marketing officer of of AeroFarms, an indoor vertical farm company based in Newark, said his crop is continuing to expand and diversify. He will announce more details in coming months.
OTHER VEGETABLES 
As asparagus and greens wane, peppers and squash ramp up in New Jersey.
In 2018, New Jersey ranked fourth in U.S. production of asparagus, with a farm gate value of $11.5 million, with prices in the mid-$50s to $60 a box, said state secretary of agriculture Douglas Fisher.
Banscher said growers have bounced back from a little bit of a wet spring, and sweet corn should be ready by June 20. Because of a slightly early start to the season, sweet corn and tomatoes should have some volume by the July Fourth holiday, according to the state agriculture department. 
Squash is coming back after a lull, Banscher said.
Flaim Farms produces 200-300 total acres of vegetables a year within a three-mile radius, harvesting from March to the first freeze in December, Bob Flaim said. 
"Weather-wise, we had a few better weeks this year in spring. We had a wet pattern last year," Flaim said.
Beets began May 5, and eggplant will start July 1. Herbs began in late April, and arugula and kale more than a month earlier. Leeks started in March and will go through December. 
The farm also purchased cleaning and sorting machines for peppers and zucchini.
Not far from the others, Marolda Farms in Vineland has experienced different weather conditions for the conventional and organic vegetables it grows under Sweetvine and Rock & Roll Organics labels. 
"It was a late start for everything," said grower Richard Marolda Jr. as he emerged from a field of fragrant fenugreek, which he said is popular with Indian-American consumers. 
"The weather was wet and cold late."
In a normal year, Marolda's cilantro and parsley could be ready first week of March, but he wasn't able to transplant until mid-March this year. 
Most of the farm's crops are wet vegetables: mustard greens, kale, beets, leaks and wet herbs such as dill and arugula. He has about 400 acres in production within a half mile.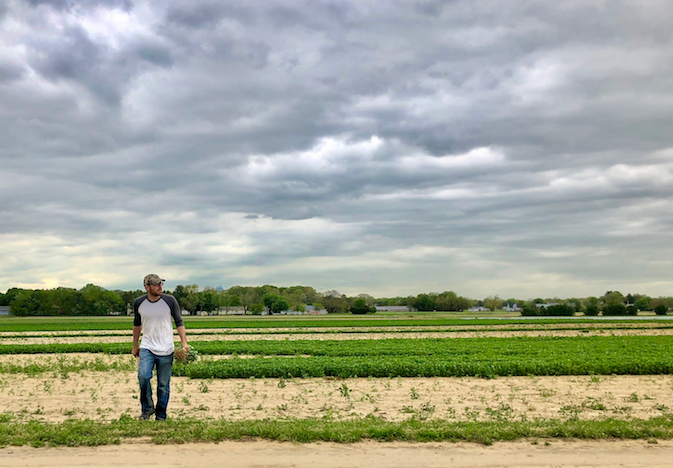 ORGANICS
New Jersey growers shipped 200,000 pounds of organic blueberries in both June and July, according to the USDA's 2018 report. No other organic New Jersey produce made the list.
"We try to do some more longer-season crops and more organic," Bob Flaim said.
To protect Flaim Farms from all sorts of variables, it has been expanding its organic lettuce and herb offerings, with five USDA-certified organic fields producing about 50 acres.
Marolda started his organics program in 2008. He expects to have close to 100 acres of USDA-certified organic crops soon, as another 15 acres in transition is ready to be certified.
Related news: