( Photo courtesy Sharon Benton; Source Unsplash )
Sales of fresh limes seem to be trending upward.
At Delano, Calif.-based Wonderful Citrus, Elena Rhodes, director of product management, said in mid-April that sales were up 13% year over year.
At Los Angeles-based World Variety Produce Inc., which markets the Melissa's brand, Robert Schueller, director of public relations, said sales of regular limes increased 11%, organic limes were up 17% and Key limes rose 11% in March and early April compared to January/February.
Beck Grove, a small, family-owned grower in Fallbrook, Calif., was selling out of limes early this year as usually picky buyers were grabbing any limes they could get "no matter what it looked like," said Nina Colasurdo, grove manager.
"The market has been a little wonky because of COVID-19," she said.
Wonderful Citrus picks limes year-round, Rhodes said.
"Our lime ranches in Mexico allow us to have steady supply throughout the year," she said.
The current lime crop has been developing during the past three months.
"January was fair, February was rainy, which is good for tree health but creates some pressure with anthracnosis," Rhodes said. 
Related content: Lime news and updates
"And March has been very dry in many growing regions."
Overall quality for limes has been good, she said, with some light green coloring and minimal dehydration. 
She said in April that it was too soon to predict the size of this year's lime crop, since the new crop will continue to set throughout the year.
Santa Paula, Calif.-based Limoneira has a small lime program out of Mexico that continues to grow, said Alex Teague, chief operating officer.
"We focus on pairing lemons and limes for the foodservice industry," he said.
Lime supplies for Limoneira currently are very limited because of harvest restrictions in Mexico as well as the cycle in the harvest, he said.
"When the foodservice industry gets back on its feet, we will start to see normalized volumes again," he added.
Most limes sold in the U.S. are imported from Mexico, Schueller said.
"We don't have a strong lime crop here in California."
They're more popular than lemons — by a 4 to 1 margin — in Mexico, Central America and South America, he said.
Limes are gaining popularity in the U.S. because of the expanding ethnic diversity, he said.
Mexico, where New Limeco LLC, Princeton, Fla., has worked directly with growers for a long time, also is that company's main source for limes, said Eddie Caram, general manager.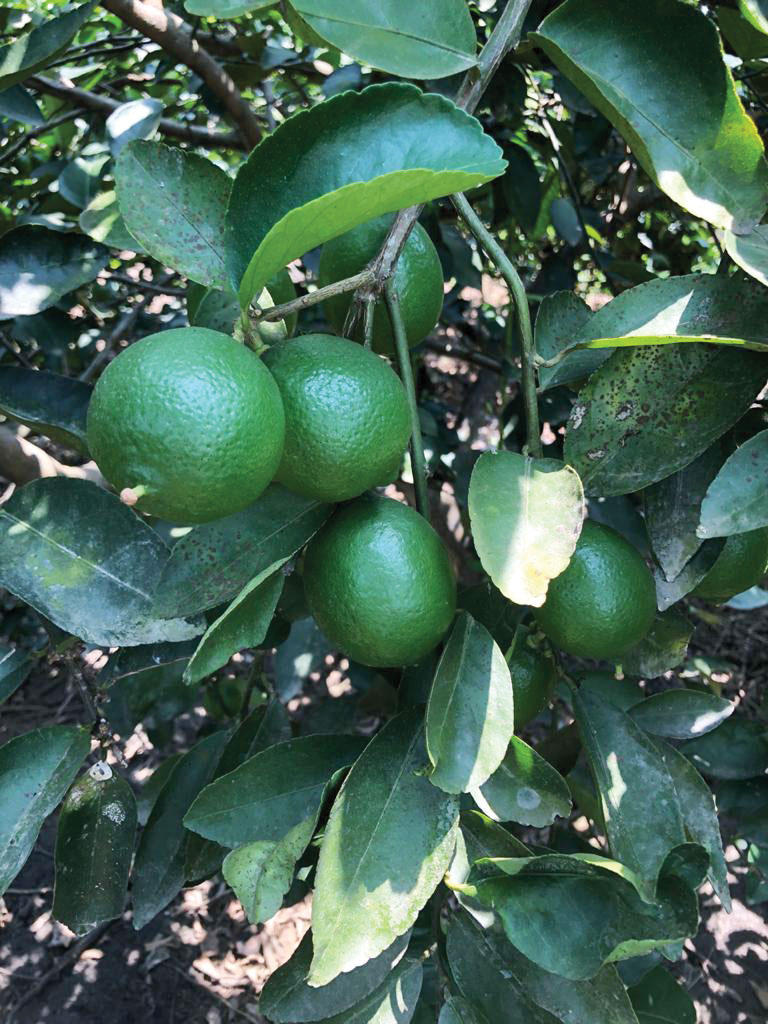 New Limeco also sources from Honduras and Colombia and offers limes year-round.
Mexico and Honduras ship 52 weeks a year, while Colombia typically exports limes to the U.S. from January until early May.
Quality of the spring crop is "looking fantastic," Caram said in mid-April, with "nice, dark green limes."
Sizes range from 110 to 250.
The Persian variety is the most common type of lime sold in the U.S., but smaller Key limes that are a bit more tart and are often used in pies and desserts also are available.
Like with lemons, "Foodservice is a big, big puller for limes," Caram said.
They're often used in drinks and served with seafood dishes.
Related content: Organic citrus sales going strong
Other varieties are sweet limes, which are yellow and "totally different from regular limes"; finger limes, a highly specialty variety available from July to December; and Kieffer limes, another specialty variety with a bumpy, deep green skin, Schueller said.
Beck Grove sells to distributors who cater to buyers who prefer California fruit, Colasurdo said.
"They will spend more for California citrus because it's juicier," she said.
The company usually picks lemons until June 15, then lets the trees go on hiatus until mid-August.
This year, Colasurdo had sold out of most of her lemons by March 19.
She attributed the unusual turn of events to possible panic buying or distributors unsure about their ability to secure fruit from sources in Mexico.
But it was a good year for California limes.
"The quality and the taste have been fantastic," she said.