Knowing and doing are two different things. You can know what path you want to take, but the action steps don't always come as quickly as the knowledge. When it comes to organic produce, the knowledge has been on consumers plates' for a while now. Moving to action is now here.  
Find more Fresh Trends data and reseach here. 
Not only are most consumers aware of organic products, but studies show that more than 80% of consumers periodically buy organics. This new wave of what are being called "health-minded consumers" generally are educated adults, often with children in the home, and those that value their health—either by prevention or treatment by natural products whenever possible. These consumers are a key fit for today's organic marketplace. 
Most consumers nowadays know about organic produce, and many of them consciously try to incorporate organic fruits and vegetables into their meals. Nearly one-third of respondents to Fresh Trends 2020 (31%) estimated that 25-50% of their total fresh produce purchases were organic, and the same number of consumers said they guessed that they purchased one-tenth to one-quarter of their produce as organic product. Six percent said they bought at least 75% of their produce as organic.
For those still waiting to make the leap, cost is the main barrier to making organics a 100% choice all the time. Thirty-five percent of shoppers said they would be willing to pay an additional 10% to 25% more for organic produce, and another 33% said they would pay up to 10% more.
Nearly half of consumers (46%) said they would buy organic produce if price was not a concern.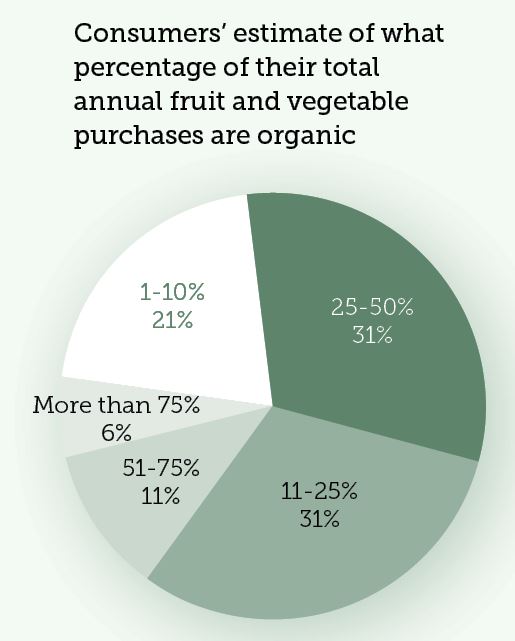 Organics at the Point of Purchase
Retailers who devote whole sections of their departments to organics seem to be choosing the right strategy. Nearly 70% of shoppers (69%) said they preferred to see organics displayed as their own section within the produce department as opposed to intermixed by commodity.
In fact, when asked how they decide whether or not to buy organic fruits and vegetables, packaging ranks as a top reason for buying organics—88% of those surveyed said that organic product is packaged more conveniently and that helps to convince them to buy.
Perhaps because of proximity, larger retailers were more likely to be the source for organic shopping this year. One-quarter of consumers said they sought out organics at chain superstores like Walmart, Target and Meijer, and the same percentage looked for organics at their regional grocer (Safeway, Kroger or Publix).
It's no surprise that exposure to chemical fertilizers and pesticides are top of mind for most consumers. Fresh Trends 2020 research shows that six in 10 shoppers opted for organic produce because of food safety issues like trying to avoid unnecessary chemicals. Forty-two percent said they chose organic produce for its nutrient content, and slightly fewer (36%) cited social responsibility as a prime reason for buying organics.
More than one-quarter of shoppers (27%) said there were items that they always purchased as organic. Consumers in the top income bracket, those with kids living at home, and those comprising the "all other" ethnic group were the most likely to show loyalty to organics every time they bought produce.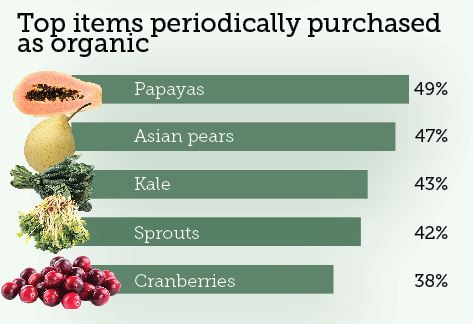 Papayas were the top item that shoppers bought as organic at least some of the time in Fresh Trends 2020, followed by Asian pears and sprouts. Two powerhouse green commodities—kale and kiwi—rounded out the top five. When comparing year-to-year trends, papayas were the item that showed the most growth in periodic purchases from last year, followed by Asian pears and kale, based on Fresh Trends research. Two of those same commodities—Asian pears and papayas—also were among the top items that shoppers bought as exclusively organic in the same year-to-year period.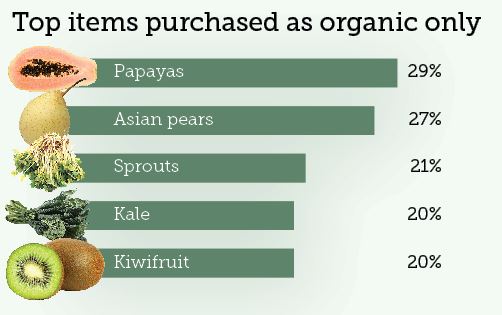 Kale continues to be one of the top items that consumers choose to always buy as organic, with one-fifth of buyers saying they always selected organic kale. Other commodities that were popular as exclusively organic included papayas, Asian pears and sprouts.
Not everyone looks for organics, however.  Shoppers buying potatoes and onions were some of the most likely to buy conventionally grown product—onions shared in that title last year as well.