( Courtesy Domex Superfresh Growers )
Fresh apple holdings on Dec. 1, 2019 totaled 118.3 million bushels, or 15% higher than a year earlier, said Mark Seetin, director of regulatory and industry affairs with the Falls Church, Va.-based U.S. Apple Association.
Processing holdings totaled 43.4 million bushels, 21% greater than Dec. 1, 2018, according to U.S. Apple numbers. 
The total number of apples in storage on Dec. 1 was 161.7 million bushels, 17% more than the year-earlier total of 138.4 million bushels and 3% above the five-year average for that date, U.S. Apple reported.
New York reported 31,500 bushels in its 2019 harvest, according to the Fishers-based New York Apple Association.
The association's packers and shippers said that pack-outs were good and there was a strong range of sizes and fruit, said Cynthia Haskins, president and CEO.
"Retailers who have been strong New York apple supporters continue to be so; we are appreciative of that support," she said. 
"We have also been in conversation with retailers that may not have been as familiar with apple varieties grown in New York state and there is interest in both classic and new varieties."
Pennsylvania had similar good fortune with its crop, said Brenda Briggs, vice president of sales and marketing with Rice Fruit Co. in Gardners, Pa.
"The Pennsylvania apple crop industry was fortunate to have a remarkable start to the season — a nice-quality crop with harvest trending early, while other regions trended later, gave us a window of 'first-to-market demand,'" she said.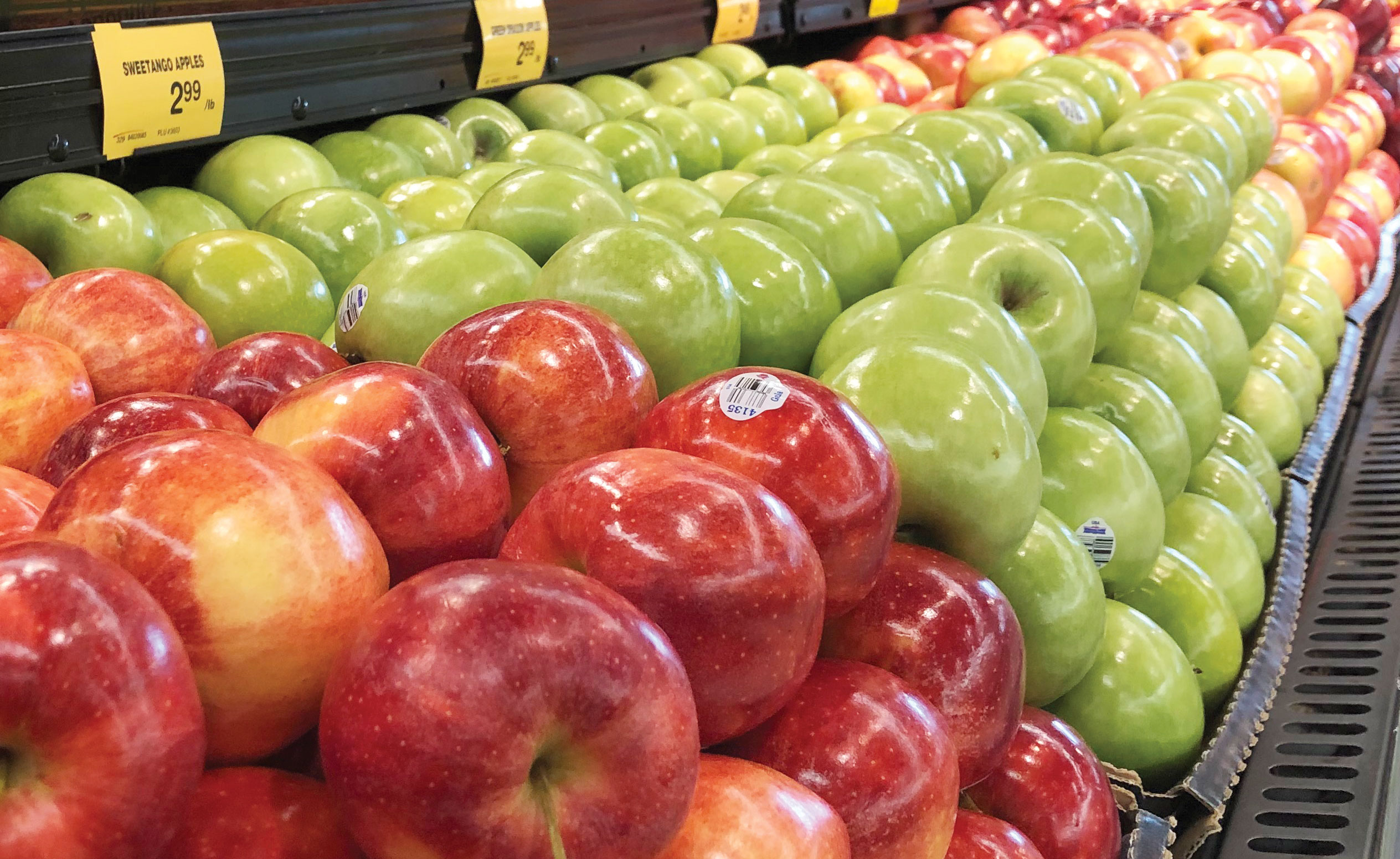 Catherine Gipe-Stewart, communications manager with Domex Superfresh Growers in Yakima, Wash., said the latest Nielsen sales data pointed to positive trends in apple sales, particularly newer varieties. 
Among the findings, she noted, Honeycrisp apples rang up nearly $1 billion in sales in 2019.
Some of those sales gains might be the result of discounting Honeycrisp, though, said Andy Tudor, vice president of business development with Selah, Wash.-based grower-shipper Rainier Fruit Co.
"You cannot take your eyes off of gala, fuji and granny, which are everyone's everyday apples," he said. 
"Look at offerings in-store: mandarins, proprietary grapes, citrus and apples. Offering over 60 varieties of apples coast-to-coast, are we confusing the consumer? Certainly, we are."
Year-over-year apple sales were up in October and November, according to Nielsen data, said Brianna Shales, communications manager at Wenatchee, Wash.-based Stemilt Growers LLC.
"While there could be a number of factors attributing to this trend, we know that Washington-grown apples are up considerably in volume this year than last so promotions need to happen, and they need to be more frequent and include multiple items."
Retailers should plan "big promotions around apples that align with the four p's," Shales said.
The "four p's" involve proper placement, the right product and mix, and the right price and promotion to move volume, Shales noted.
"We need to keep encouraging shoppers to purchase apples as they are a big part of the overall produce department strength," she said.
Michigan's crop turned out to be "average size," said Diane Smith, executive director of the Michigan Apple Committee in Lansing.
"The harvest got off to a late start due to a late bloom in the spring, but it didn't take long for things to catch up," she said. 
"We are dealing with some challenges in regards to markets, and some other setbacks from which the Michigan industry is still working to recover."
As the winter months take hold, Michigan will still have "plenty of apples," and retail account managers already have set up programs for winter and spring months, Smith said.
Traverse City, Mich.-based grower-shipper North Bay Produce reported a strong 2019. 
"We have had a great year in 2019 and will have record sales," said Ken Korson, apple category director. 
"We have quite a bit of programed business that is not effected by the market as much, so we may not be feeling the glut of fruit in the West like other shippers are."
A big Northwest crop creates plenty of promotional opportunities for retailers, said Chuck Sinks, president of sales and marketing with Yakima, Wash.-based Sage Fruit Co.
"Overall, it has excellent marketing potential," he said. "Peak sizing is down a bit, however. We can expect approximately a one smaller size difference by variety."
The brix level on the apples are "extremely high," he noted.
The year 2019 was good for New Zealand-grown apples, said Roger Aguirre, director of apples and pears with Vancouver, British Columbia-based The Oppenheimer Group.
"We enjoyed a very strong New Zealand season, with Jazz and Envy leading the way through the spring and summer," he said. 
"We segued into the Washington crop in the fall with sustained momentum and excitement around these flagship varieties, with Washington Pacific Rose appealing to a well-established niche following and British Columbia Ambrosia shining as the high-colored original variety."
Related content:
Crunch Time premium apples show well in study
Produce groups call for action on farm labor reform
Starr Ranch switches plastic for corrugated for organic apples