Turek Farms is sticking with tried and true crops this year considering COVID-19-related market uncertainties. ( Courtesy Turek Farms )
This doesn't seem to be the year for New York state growers to experiment with the market.
Instead, they're playing it as safe as they can.
"I expect buyers to be conservative, which is a trend we have been experiencing for the past several seasons. Nobody wants to carry much more inventory than they have orders for, and we have been adapting our business to fit that need," said Shannon Kyle, sales and marketing at Torrey Farms, Elba, N.Y.
This often means delivering more less-than-truckload freight shipping and making more frequent deliveries to customers each week, she said.
Torrey Farms has its own trucking company, Paul Marshall Produce, to help that along.
The company isn't planning on introducing any new products, hiring staff or construction projects in 2020.
Turek Farms, King Ferry, N.Y., is only doing the tried and true crops.
"We're not going to try anything out of our comfort zone this year and hope for the best," Turek said.
Potatoes are the biggest fresh-market crop grown by Williams Farms, Marion, N.Y., which has a customer ratio of about 80% retail chains and 20% wholesalers.
As across the industry, Williams saw sales in hardy, inexpensive root vegetables skyrocket at the start of the pandemic.
"It's been pretty crazy and busy. When it first hit, we could not keep up with orders. We can now," Williams said.
Packaging, Promotions
Kyle said she has seen increased demand for packaged product since the new coronavirus struck the U.S. 
Torrey Farms was deep into its storage-crop season of onions, potatoes and cabbage when COVID-19 first hit the region.
"The packaged product that was marketed through the retail channels saw a real surge in demand, which continued right through until we had finished in late May," Kyle said. 
Nothing changed as far as his potato and onion pack sizes, Williams said.
Hudson River Fruit Distributors, Milton, N.Y., has expanded its packing line to meet changing demand. 
The company has installed two new high-speed bagging machines, said Alisha Albinder, director of operations and whatever else is needed at the family company.
"It will help support the increased demand for poly bags, which may be a result of COVID," Albinder said. "We'll have that ready to roll this coming season."
For a second year, the New York Apple Association is continuing its new poly bags with colorful graphics, which come in three colors to complement different varieties and colorations, said Cynthia Haskins, president and CEO.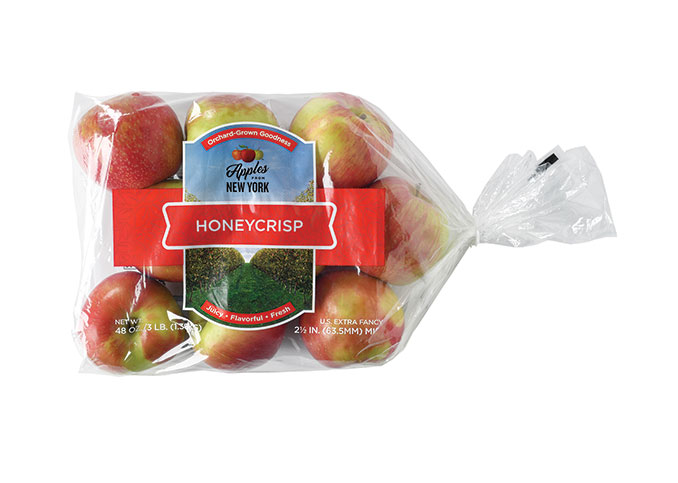 The association's members are also using graphic tote bags to drive impulse sales with waterfall displays and early-season specials.
Also, the association will make its marketing materials available to retailers for in-store promotions and digital marketing, but it's also rolling out a program to help distributors encourage the foodservice industry to stock healthy, sit-down restaurants and on-the-go meal options, Haskins said.
The association usually partners in airing a commercial during the televised TCS New York City Marathon, which caps its runners at 50,000, but the November race was canceled. 
Haskins said the association will redirect those advertising dollars into social media to reach or surpass the 55 million impressions earned in 2019. 
Related content:
New York solar programs can save growers, packers money
New York growers stick to comfort zones for 2020 season
NY Price Choppers carry Little Leaf Farms lettuces