Organic fruits and vegetables can be big business in the Northern California market.
"Organic has been huge for us," said Mike Pizza, who handles sales and administration for Washington Vegetable Co. on the San Francisco Wholesale Produce Market.
"We've been doing better than last year, and most of that growth has come from organics," he said.
The company, which was established in 1931 and bills itself as "the oldest wholesale produce business located in the city and county of San Francisco," offers an extensive variety of organic fruits and vegetables, including avocados, asparagus, carrots, celery, chard and kale as well as a selection of Earthbound Farm organic salads in bags and clamshell containers. 
Some customers have ramped up their organic purchases from none at all or just a small amount to up to 70% of their produce offerings, Pizza said.
He takes time out on Wednesdays to visit various stores to try to pick up new business.
"The conversations I've had are almost solely focused on organics," he said.
"We've developed great relationships with farmers, and we buy from bigger organic people like Lakeside Organic Gardens and Earthbound Farm as well as smaller farmers who are just getting off the ground," he said.
There are "not a ton of options" for buyers in the market looking for organic produce, he said.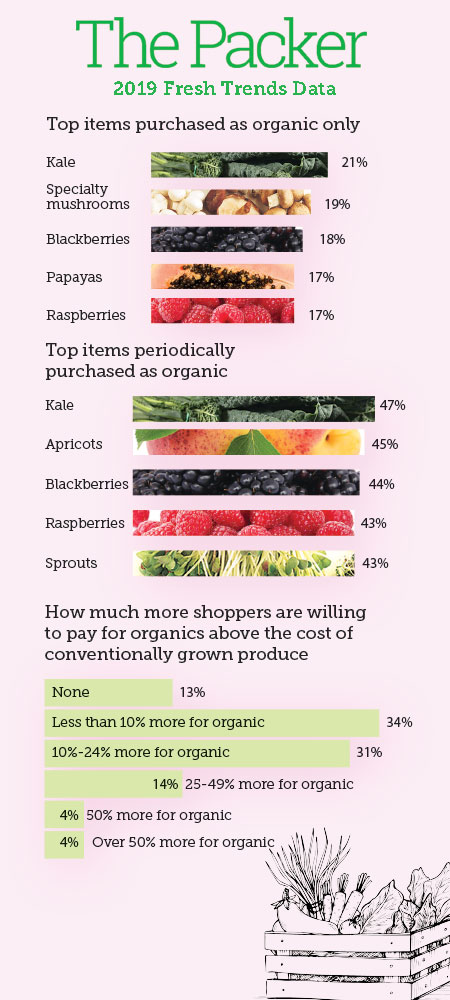 Some offer good but pricey organic products, while others offer items that are less costly but may not offer the highest quality, he said.
"We're trying to hit the middle ground of affordable but good quality."
He works to achieve that goal by building good relationships with local famers, he said.
CDS Distributing Inc. in South San Francisco carries organic and conventional versions of just about everything in its product line, said Jan Garrett, vice president of marketing.
Some chains no longer offer conventional options for many commodities, he said, which is a shift from stores that offer both.
But he's not sure that's always the best business plan.
"Even though prices have come down, some consumers still perceive that organic is more expensive, so for those value shoppers, it might not make sense for a retailer to just carry one," he said.
Carcione's Fresh Produce Co. Inc. at the Golden Gate Produce Terminal in South San Francisco is doing more and more organic business, said president Pete Carcione.
Buyers are looking for more organic items and farmers are growing more organic produce, he said.
"People want organic produce because it's grown without pesticides, and it tastes better," he said.
Farmers who grow organic products that are sold locally often eliminate the hydrocooling or vacuum cooling process, which lowers the temperature and stops the ripening process, he said.
Products like peaches and strawberries that continue to ripen will give off a pleasant aroma in the supermarket, he said.
Washington Vegetable Co. has been expanding its organic business a lot over the past four years and plans to increase it even more, Pizza said.
He estimates that 15% to 20% of the company's products are organically grown. Just two years ago, that figure was about 5%.
Many customers, like Berkeley Bowl and Gus's Community markets, are all or mostly organic, he said.
At CDS, Garrett said demand for organic produce has been on the rise.
Three years ago, when she started at the company, there were not nearly as many organic items available as there are today, she said.
Now, in the apple category alone, just about every variety is available organically.
CDS Distributing is the exclusive distributor for Harmony brand organic heirloom apples, pears, cherries and stone fruit. 
The Packer's Global Organic Produce Exposition & Conference (GOPEX) provides a forum to meet the rapidly changing needs of professionals who grow, distribute, pack and market organic produce. This international trade show and conference provides the ideal opportunity for organic produce professionals from around the world to network, exchange ideas, source new products and services, and do business with the industry's leading growers, distributors, packers, marketers and retailers. 
Related content: 
Organics
Organic produce trending upward in the produce aisle
Organics clean up