Workers pack Peruvian avocados for Calavo Growers Inc. Calavo expects to see its first arrivals in the U.S. between June 15 and 21, says Rob Wedin, vice president of sales and marketing. Most of the company's Peruvian fruit will be large, No. 1 grade, he says. (Photo taken before coronavirus pandemic.) ( Courtesy Calavo Growers Inc. )
Strict food safety measures have been implemented as Peruvian avocado producers prepare to pack and ship up to 200 million pounds of high-quality fruit to the U.S. between June and September, according to a news release from the Washington, D.C.-based Peruvian Avocado Commission.
Peru's government has ensured that exports of its products will be in compliance with new COVID-19 safety regulations, and that essential personnel involved in the transport and handling of exports will follow all necessary safety measures, the release said.
Authorities in Peru have mandated strict sanitary procedures to ensure that all crops are being carefully handled throughout the supply chain. 
"Although there were early disruptions to the international market and domestic operations, the impact on the industry's exports has not been significant," Jose Antonio Castro, chairman of the Peruvian Avocado Commission, said in the release.
"Initially there was a slight slowdown in exports, but this was mostly due to market uncertainty surrounding COVID-19, and to industry learning how best to implement new safety practices."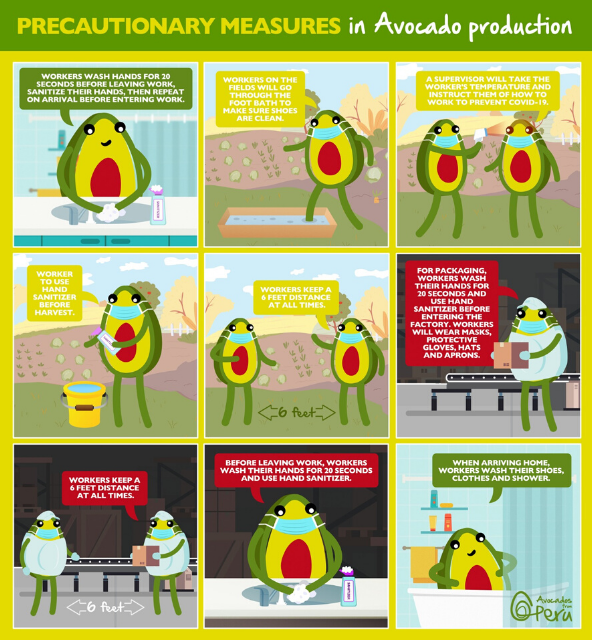 The market for Peruvian avocados continues to grow in the U.S., with most destined for the Midwest and East Coast.
Peru forecasts a 5% increase in 2020 exports compared to 2019 volume despite limitations caused by COVID-19.
"Peru continues to be a powerful player within the summer market, and as the demand for healthy foods like avocados continues to rise, AFP will make every effort to ensure consumer access to this iconic superfood, especially in stressful times like these," Xavier Equihua, president and CEO of the Peruvian Avocado Commission, said in the release.
To help move Peruvian avocados in supermarkets, Avocados from Peru has developed a comprehensive menu of marketing strategies that retailers can implement using traditional and new media, the release said.
Bloomberg has cited a broad range of economic initiatives by the Peruvian government as a "stimulus package that equals about 12% of its gross domestic product of Peru, the biggest in all of the Americas," the release said.
Equihua said the measures to ensure economic stability in the wake of COVID-19 were "nothing short of exceptional."
"In the same vein, AFP is committed to assisting the heroes across the supply chain in any way possible, and providing healthy food options like Peruvian avocados to customers," he said. 
Related content:
Commission adopts modular marketing approach
Later start but good quality expected from Peru
Mission sends first shipment of Peruvian avocados to South Korea