Prime Time International was expected to start harvesting red and yellow bell peppers in the Oxnard area, shown here last year, in July, says Katy Johnson, marketing assistant. ( Courtesy Peter Rabbit Farms )
Pepper lovers have something to look forward to for the next several months as grower-shippers report plentiful supplies of good-quality product.
Peter Rabbit Farms, Coachella, Calif., was in its second round of picking field-grown green bell peppers in late April, after low nighttime temperatures delayed the start of the harvest by about 10 days, said John Burton, sales and cooler general manager.
Temperatures brought plants to where they were just about ready to produce, "and they just stayed there," he said.
In the end, though, that was good for the peppers.
"We're very happy with the quality that we are seeing," he said.
Peter Rabbit should have green bell peppers until mid-June and red ones through the end of June.
The company also will have a fall crop of the same blocky green and elongated red peppers from October until December — or until the first freeze.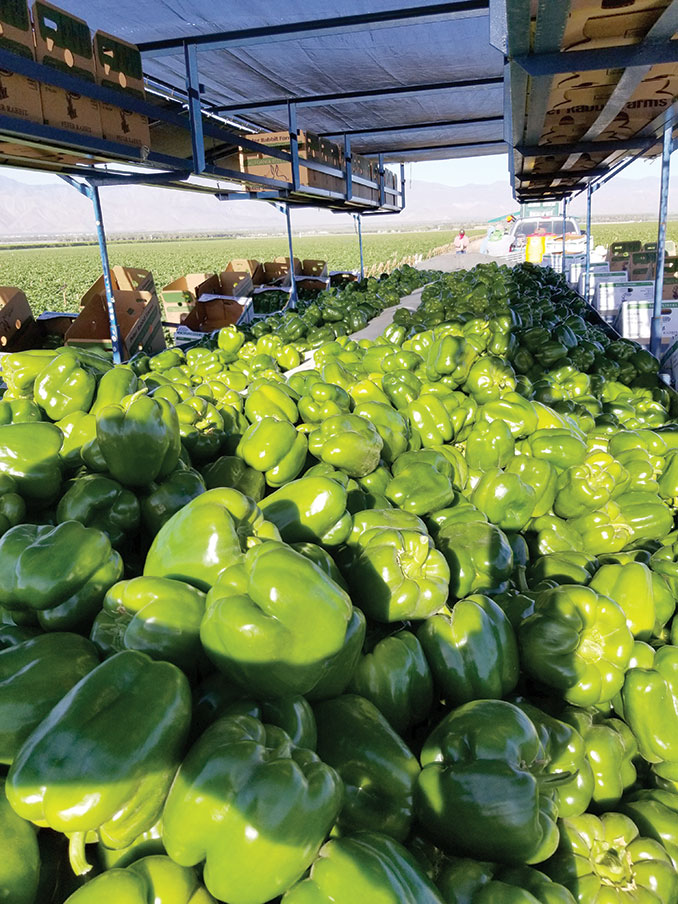 Greenhouse
The greenhouse pepper deal in Canada also is off to a good start.
"The quality of Canadian sweet bell peppers this year has been very good, and we are expecting to see a lift very shortly with the upcoming holiday weekends ahead for Victoria Day, May 20, in Canada and Memorial Day, May 27, in the U.S.," said Chris Veillon, chief marketing officer for Pure Hothouse Foods Inc., Leamington, Ontario.
The company, a year-round grower and marketer of greenhouse-grown sweet bell peppers, long sweet peppers and mini sweet peppers, continues to see growth year over year, he said.
Vancouver, British Columbia-based The Oppenheimer Group offers a full complement of sweet bell peppers from Canada, California and Mexico, said Aaron Quon, executive category director.
The Canada program will continue through November, California will last through August with a new crop planned for October, and Mexico will finish at the end of May.
"Quality has been good on all fronts," Quon said. "Notably, the first picks in British Columbia look great."
Grower Network LLC, the sales arm of Lake Park, Ga.-based Ken Corbett Farms LLC, anticipated a typical start date in mid-May for its green bell peppers, said Eric Bolesta, sales manager.
The region received "seasonal temperatures" for a change instead of unusually cold or unusually hot weather, Bolesta said.
"That should make quality outstanding."
He expected picking to continue until about July 4, give or take a week, for bell peppers and sweet mini peppers.
Bell pepper shipments from Mexico were winding down in late April for Coachella, Calif.-based Prime Time International, said Katy Johnson, marketing assistant.
Harvesting was expected to start in Coachella in mid-May and continue through early July.
Picking should start in the Bakersfield/Arvin area in late June and continue for three or four weeks before transitioning to Oxnard in July.
The company ships red, yellow and green bell peppers and mini sweet peppers.
"So far everything looks good," she said April 29.
Pasha Marketing LLC, Mecca, Calif., started harvesting green bell peppers in late April and expected to start reds by the second week of May, said Franz De Klotz, vice president of marketing.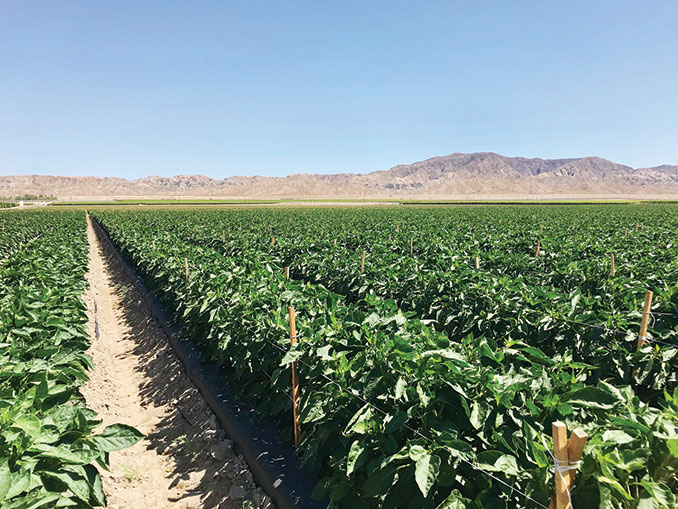 "We had optimum growing conditions," he said April 29. "Everything looks very good right now."
The company will transition to the Bakersfield area in mid-June, where Edison-based Johnston Farms will harvest green bell peppers for Pasha Marketing for about six weeks.
The crops in both areas were delayed about 10 days this spring.
Although California, including the Coachella Valley and the San Joaquin Valley, received significant rainfall this winter, the rain did not affect the pepper crop, De Klotz said.
"We're pushed back because of the cold weather, not so much because of the rain," he said.
De Klotz expected ample supplies of peppers.
"We look for June to be a good volume month with promotable supplies from start to finish," he said.
Bell peppers have gotten bigger and bigger over the years, said Burton of Peter Rabbit Farms.
As the season kicked off, the company was heavy on "really nice" jumbo and extra-large peppers with stronger, thicker walls, he said.
"We don't have much, if any, of the medium-large peppers anymore," Burton said.
Since the larger varieties have better yields and produce bigger peppers, they provide growers with a better value, he added.
That's not good news for restaurant chains, though.
Foodservice customers tend to prefer medium peppers, which are becoming hard to find, Burton said.
"They have to take bigger peppers." 
Related articles: