( Graphic by Brooke Park )
The COVID-19 pandemic continues to affect companies and individuals in the fresh produce industry.
The Packer covers pandemic-related news produce industry, including the following news items.
Covilli Organics
(UPDATED) Covilli Organics reported that an employee at its sister company Sun Organic Repack tested positive for COVID-19 on May 16. 
The company has followed COVID-19 protocols since mid-March, according to a statement from Covilli, including social distancing, mandatory face masks, hand washing, sanitation, temperature checks and more. On May 13 an employee reported "feeling sick," followed by others in the same work area, according to the statement. Anyone working near the employee underwent a 10-day quarantine period.
The company shut down the Nogales, Ariz., facility on May 15, with plans to open it May 29. Another Nogales facility remained operational. During the shutdown, the company sanitized the facility, as well as the one still operating, the week of May 18.
All employees complied with a company request for testing, according do the statement. 
After the primary concern for the health and safety of our staff members, comes the apprehension of maintaining on-going operations — please be assured we are proceeding in a thorough manner and with extreme attention," according to the statement.
Note on update: In a May 26 update, the company reported it moved the re-opening of the Bravo warehouse from May 25 to May 29.
Hero Pins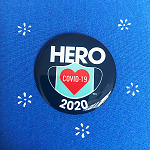 Lori Livacich, seeking a way to thank agriculture workers, grocery store employees and other essential frontline workers during the COVID-19 pandemic, came up with the Hero Pin.
Livacich, whose background includes working in her father's companies, Vista Avocado and Vista Sales, Vista, Calif., sells the pins online and donates the proceeds to World Central Kitchen, according to a news release.
The pins sell for $4.99, and are meant to be given to "everyday heroes and essential workers" to thank them during the pandemic.
Partnership for a Healthier America/PMA
The Partnership for a Healthier American and Produce Marketing Association's COVID-19 Fresh Food Fund has launched in Denver.
The two associations partnered on the food box program to provide food for families during the pandemic, and donations are scheduled to continue in Denver for three months, distributing 600,000 servings of fresh fruits and vegetables, according to a news release.
The COVID-19 Fresh Food Fund money comes from an anonymous donor, ReFED, Novo Nordisk, and individuals who donate on the program's donation page.
"The pandemic has added additional stress and uncertainty to those families and communities in need, especially as they wonder where their next meal will come from," PMA CEO Cathy Burns said in the release. "The PHA Fresh Boxes will provide relief and sustenance by delivering a variety of fresh fruits and vegetables, along with recipes and education, so that consumers can fill their plates with healthful and nutritious food."
Zipongo, which offers specific diet and health information tailored to users' needs, provides free access to its Foodsmart digital platform, according to the news release.
The Denver program features 20-pound produce boxes packed by FreshPoint, containing:
Eight pounds (total combined) of apples, cabbage, carrots, onions, oranges, white potatoes, and sweet potatoes;
Six pounds (total combined) of peppers, broccoli, cauliflower, celery, corn, cucumbers, green beans, tomatoes, iceberg lettuce, romaine lettuce, salad mix, spinach, mushrooms, radishes, squash, asparagus, green onions, and other root vegetables' and
Six pounds (total combined) assorted selection of melon, grapefruit, grapes, nectarines, peaches, pears, plums, berries, lemons, limes, and other citrus fruits.
Produce Marketing Association
Bruce Summers, whose U.S. Department of Agriculture branch oversees the Farmers to Families Food Box program, will participate in the Produce Marketing Association's next Virtual Town Hall meeting.
The meeting is at noon Eastern May 27 and lasts for 45 minutes, according to a PMA news release.
Summers, administrator of the USDA's Agricultural Marketing Service will join Hunt Shipman, principal and director at Cornerstone Government Affairs. Max Teplitski, PMA's chief science officer, will moderate the conversation, according to the release.
Registration is online; deadline to register is 9 a.m. May 27.
As with all Virtual Town Hall sessions from PMA, the session is followed by roundtable sessions that cover segments including retail, foodservice and grower-shippers.
UnitedAg
UnitedAg, dedicated to providing healthcare solutions to the agriculture industry, has partnered with Spring Health to offer multilingual behavioral health services to members.
The organization is responding to heightened concerns of mental health due to the pandemic, as questions about financial insecurity, health and safety, isolation and job loss are being faced by industry members, according to a news release.
"Now more than ever before, the agricultural industry needs a robust mental health program to ensure the well-being and productivity of our workforce," according to the release. "UnitedAg has made this unparalleled investment in behavioral health so that our members receive the emotional support they need to get through the COVID-19 pandemic."
UnitedAg is based in Irvine, Calif., and has other California offices in Oxnard, Corona, Salinas, Fresno and Santa Maria.
To see more pandemic coverage, see The Packer's COVID-19 webpage.
Related stories: