( Photo courtesy Nikolai Chernichenko; Source Unsplash )
As one of the most popular items in the produce department, apples enjoy a steady organic presence.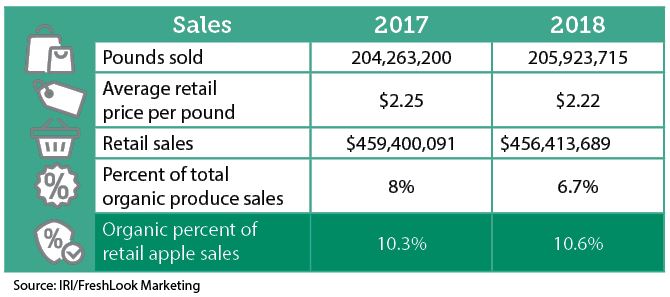 One-tenth of apple sales were organic in 2018, with marketers moving more than 205.9 million pounds of the crisp fruit during the year, according to data from IRI/FreshLook Marketing. Organic apples made up more than 6% of the apple category overall.
Income affects apple buyers less than other commodities. Shoppers earning more than $100,000 were a bit less likely to buy organic fruit periodically than those earning less, according to Organic Fresh Trends 2020.
Shoppers in the Northeast were more likely to always buy organic apples, followed by those in the West—a trend that continues from last year.
However, when it came to periodic organic apple purchases, Western shoppers took the lead.

Six in 10 Asian apple buyers said they grabbed organic fruit at least some of the time, making this group the most likely overall to make a periodic organic apple purchase, as was the case last year. For both 2019 and 2020, Caucasians were the least likely ethnic group to buy organic apples periodically.
Shoppers younger than age 50 were more than three times as likely to make an organic-only apple purchase than older shoppers. Organic Fresh Trends 2019 noted a similar trend.

Families with children were a bit more likely to buy organic apples some of the time, at 29%, than those without kids, at 26%.  
Related content:
2019 Fresh Trends: potatoes, apples, squash
See who's buying apples: Fresh Trends Data
INTERACTIVE: Top 15 favorite apple varieties