Chiquita has implemented a program to empower women who work for its Latin American banana plantations. ( Courtesy Chiquita )
Although it's only been about a year since the Produce Marketing Association's Sustainability Committee held its first meeting, PMA has long been on the cutting edge when it comes to sustainability.
The organization, for example, has been a leading funder of the Stewardship Index for Specialty Crops since SISC was founded in 2008 and has been reaching out to organizations like the Soil Health Institute that have emphasized sustainability, said Ed Treacy, PMA's vice president of supply chain and sustainability.
"We had been doing things to support sustainability-type initiatives, but not formally, and we didn't have a volunteer committee," Treacy said.
But that changed in late 2018, when PMA's board of directors updated its strategic plan and added sustainability as its fifth area of focus — along with demand creation, industry talent, global connections and science and technology.
The stated purpose of the Sustainability Committee is to "serve PMA membership by identifying sustainability trends, information, resources and best practices so industry members can apply them to their business both domestically and globally."
The 40-member committee, which John Chamberlain, vice president of marketing for Santa Paula, Calif.-based Limoneira Co., chairs with Treacy as the liaison, met three times during its first year.
One of its first accomplishments was to respond to PMA membership's need for a shared definition of sustainability, Treacy said.
That definition is contained in the committee's mission: To help inspire the produce and floral industries to continuously optimize processes and resources in order to drive economic, social and environmental benefits that leave the world a better place for future generations.
Or, as Treacy puts it: "Implementing initiatives that benefit the planet and the people on it profitably — the three Ps."
As companies share their stories about their sustainability programs, Treacy expects those programs to catch on industrywide.
"The produce industry is very good at learning from each other and implementing what their competitors, friends and other companies have implemented," he said.
The committee quickly found that there is a plethora of things that fall under the "people, plant and profitability" heading. 
"We can't do everything all at once," he said. "We need to prioritize."
So the committee came up with a list of five focus areas:
Packaging, which includes recycling and the reduction but not the elimination of single-use plastic;
Food waste and food loss, which includes waste reduction;
Soil health, which Treacy said is a must for sustainability;
Social responsibility/labor, which includes the adoption and promotion of the Ethical Charter; and
Renewable energy/alternative energy, which includes energy efficiency.
The Ethical Charter was spearheaded by PMA president Cathy Burns and United Fresh Produce Association president Tom Stenzel and centers on fair and ethical treatment of employees. 
It has been adopted and endorsed by many produce companies.
PMA's Sustainability Committee has taken a couple of approaches to accomplish its goal of inspiring companies to launch sustainability programs.
One is through case studies — about two per month — that take a deep dive into initiatives that specific member companies have undertaken to solve problems within the five focus areas and explaining, when possible, what the financial implications were.
The case studies are available to members on PMA's website, pma.com.
The committee also is working with a communications consulting company to develop tools.
One of those is a tool to help members recognize that their current business practices may well be sustainable.
"Some multi-generation businesses don't see that some of their business initiatives and the way they run their business are sustainable and worth telling consumers or their trading partners about," Treacy said.
Another tool being developed will help those businesses tell their stories by explaining what they should or should not say and how to go about it.
There will be two versions — one to address consumers and one for trading partners or other industry members.
The work on the tools is expected to start within the next month or so.
Also, some members of the committee are assisting with the development of a benchmark for sustainability audits, which an increasing number of produce buyers are requiring.
The effort to develop the Sustainable Supply Chain Initiative is being led by the Consumer Goods Forum, which created the Global Food Safety initiative, which serves as a benchmark for food safety audits.
"It gives the audits credibility and ensures that they are thorough and adhere to certain standards," Treacy said.
Treacy is a member of the Sustainable Supply Chain Initiative stakeholder committee, and two PMA Sustainability Committee members are on the working group to develop audit schemes.
While there are about 15 different food safety audit schemes, there are more than 150 covering sustainability.
"Sustainability is broader than food safety," he said.
Cost should not be a deterrent to implementing a sustainability initiative, since there are many initiatives that have a positive return on investment, Treacy said.
Those are the ones that will be highlighted.
Treacy emphasized that sustainability isn't just a grower-shipper concern.
The concept applies to the entire supply chain, including retailers, distribution centers and transportation.
He reiterated that sustainability is not a new concept for PMA.
"Our focus on it is just being formalized and accelerated," he said. 
Related content:
Sustainability is the norm for Four Seasons Produce
California packaging legislation will change industry
Sustainable Produce Summits give insight
---
To find the latest on sustainable food systems and conservation ag, visit AgWeb.com/ACAM.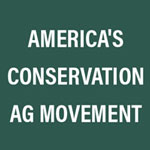 ​