( Photo courtesy Dan Hamill, Unsplash; Graphic by Brooke Park )
Plant-based diets seem to be everywhere, and I am all in. My job may bias me, but I already ate 40-50% of my diet as fruits and vegetables before starting at The Packer last year. I am by no means a vegan or vegetarian, though. I still enjoy meat and (of course) cheese! While plant-based diets and increased vegetable consumption may seem like a fad, I disagree — they are here to stay. Bonus! Plants make me happy. I'm sure the Produce for Better Health Foundation would be proud. PBH is a nonprofit organization dedicated to transforming consumers' opinions on fruit and vegetable consumption, according to its website. Its campaign slogan: "Have a plant." 
The USDA is also on board. Its ChoosemyPlate.gov initiative encourages consumers to "make half your plate fruits and vegetables," according to its website. It offers tips and tricks for increasing fruit and vegetable consumption, such as "Choose vegetables rich in color; stock up on veggies; sip on some vegetable soup; and more." 
I felt inspired this Thanksgiving, and going along with the plant-based trend, I decided to make a vegetable-forward side dish. Farro and vegetable-stuffed acorn squash. Boy, was I pleasantly surprised! My husband loved it too. #Winning! It was savory and delicious with a variety of textures and flavors. (I also attempted to make a sweet potato souffle, but we won't talk about that catastrophe.) 
The squash recipe I made was not vegan or vegetarian but can easily be adjusted to fit any diet. I added Parmesan and Romano cheese to the dish and paired with it a roasted leg of lamb. This dish could effortlessly pair with the traditional Thanksgiving meal and is easily scalable. Enjoy!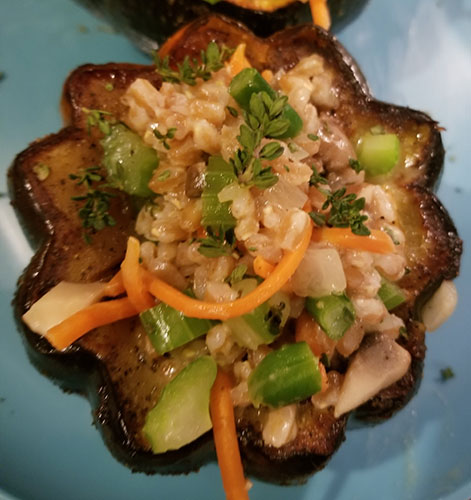 Ingredients (serves 8)
1 cup washed, de-stemmed and diced green beans 
½ large sweet onion, chopped
4 stalks of celery, chopped
Olive oil
1 T finely minced garlic
2 T unsalted butter
¾ cup shredded carrots
1 cup farro
1/3 cup Parmesan and Romano cheese
4 cups vegetable broth
Salt and pepper
Steps:
Preheat the oven to 375° F. De-stem the acorn squash, cut each squash in half and remove seeds. Drizzle with olive oil, salt and pepper and rub all over squash. Place cut side down and bake for 30 minutes.
Meanwhile, add farro and vegetable broth to a saucepan on high heat and add a pinch of salt. Bring to a boil, reduce heat and let simmer for 20-25 minutes (stirring occasionally) or until desired tenderness is reached. After all liquid is evaporated/absorbed and farro has reached desired tenderness, add Parmesan and Romano cheese. 
Prepare your vegetables. In a large pan heat 2 tablespoons of oil. Add garlic and onions. Sauté until onions are slightly transparent. Add mushrooms, sauté for 3-5 minutes. Add celery, green beans and carrots, sauté for 10 more minutes. Add in thyme and stir. Remove from heat.
Add vegetable mixture to the farro. Place the farro/vegetable mixture in the roasted acorn squash boat. Sprinkle with thyme and Parmesan cheese. 
ENJOY!