In the 20th century, shoppers were accustomed to someone serving them when they purchased food. A&P was among the first to pioneer a market format focused on low prices and a "self-serve" format.
( Photos courtesy FMI )
Chain Stores Change the Supply Chain
A&P's new format stores were both easy and inexpensive to build. They were simpler to stock because they offered fewer items than a traditional grocery. A&P slashed profit margins, and the company sought to move high volumes of perishables and groceries to make up the price difference. Plus, these "economy" stores could fit in any neighborhood—propelling them to the forefront of what would become the "chain store" concept. 
In 1900, there were only 300 chain stores nationwide. Just a quarter-century later, that number jumped to 10,000, and by 1930 there were chain stores reported in all 48 states.
Wholesalers hated it. In 100 Years of Produce: Remembering the 1930s, The Packer reported, "The big problem, amid the woes of the Depression, was that the chains were buying better, stronger and sometimes cheaper. Their influence was pervasive." 
In fact, The Packer reported one monumental point in 1929 when Safeway Stores Inc. took over the operation of its own fresh fruit and vegetable markets, and 700 buyers went out of the market overnight. 
Independent retailers also felt the pinch and turned to wholesale grocers to secure their position in high-quality perishables. While this gave them buying power, groups lamented that they didn't have access to the quality of fresh fruits and vegetables that chain stores did.
Self-Service Becomes the Wave of the Future
A brand-new Southern grocery store chain—Piggly Wiggly—offered another revelation in retailing: self-service.
While A&P eyed store operating costs, Piggly Wiggly focused on labor. Cutting out store clerks shaved costs even more, and, although it took some getting used to, consumers learned to fill their own orders—and liked it.
"[Piggly Wiggly's founder] redesigned food shopping, methodically arranging things in order to appeal to how customers shopped," noted Time.com article "The Surprising Way a Supermarket Changed the World." It gave consumers a choice, something that they hadn't had much of before at a grocery store.
The timeliness of war also helped to promote this effort. When the American labor force joined the military efforts, grocery stores lost store clerks, so a self-service option worked.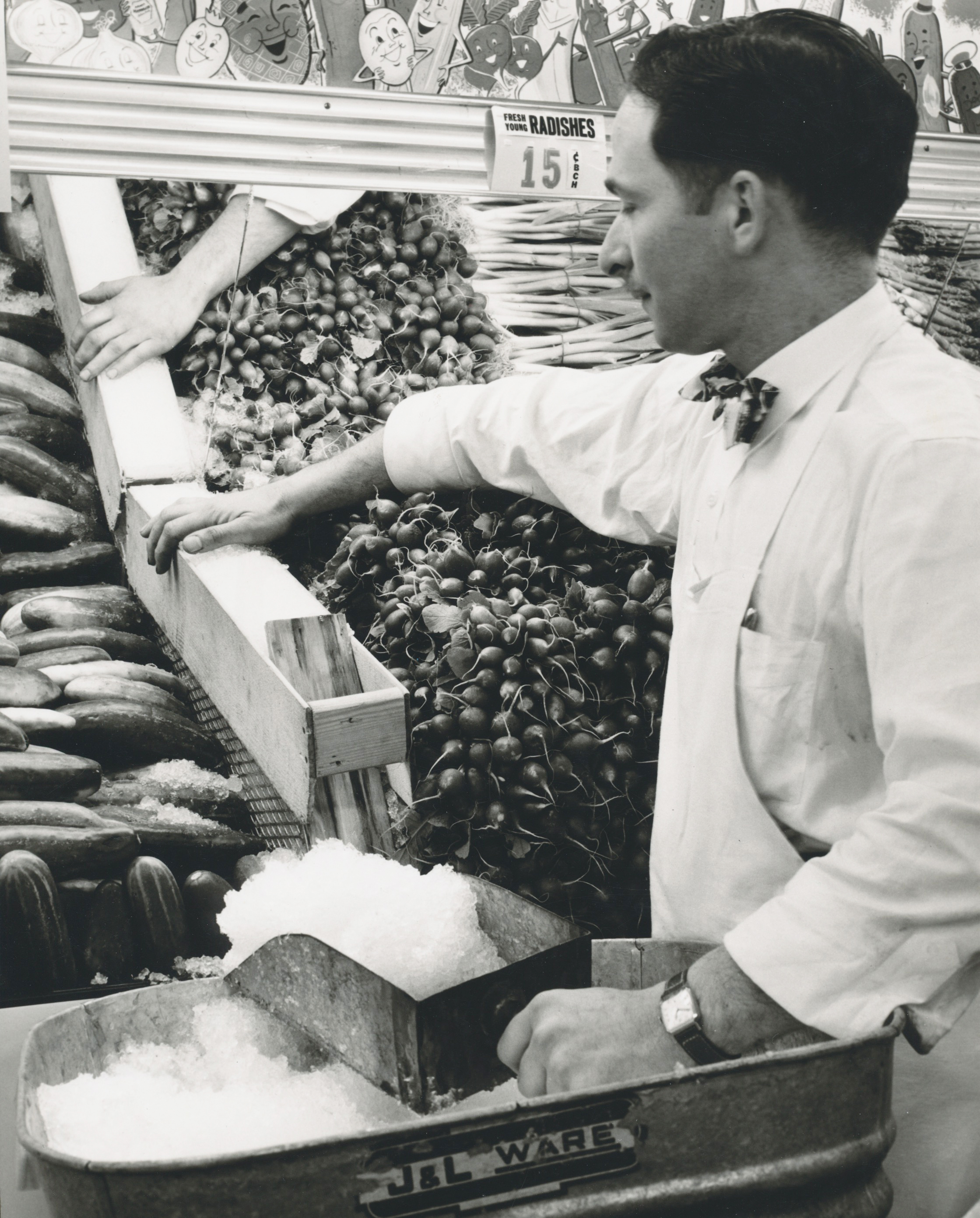 Size Begins to Matter
A&P pioneered the economy chain store using a small-scale format; others began to look at doing the opposite: large or "super" markets.
A manager for Kroger Co., Michael Cullen (who started as a clerk at A&P), envisioned full-service stores of giant proportions, literally, including areas for fresh produce, bakery, meat and groceries in a format convenient for shoppers. (Before the 1930s, consumers had to visit separate places for perishables—a fruit stand, butcher, baker, milk man.) His plan—which he outlined in a letter to Kroger directors—involved lowering markups and making up for them by quickly moving high volumes of products, including perishables. 
"The fruit and vegetable department of a store of this kind would be a gold mine," Cullen noted in a letter to Kroger executives in 1929. "This department alone may make a net profit of 7% due to the tremendous turnover we would have after selling out daily and not throwing half the profit away, which is done at present time in 25% of the chain stores throughout the land."
Kroger didn't share his enthusiasm, so Cullen quit and a year later opened his visionary format store, King Kullen Grocery Co., in Queens, N.Y. Advertising the store as "the world's greatest price wrecker" drew crowds of consumers, and just six years later when Cullen died, he'd expanded from a single store to 15.
The first storefront to use the "supermarket" moniker came in 1933 when Kroger's former president William Albers opened Albers Super Market in Cincinnati.
"Supermarkets made it possible to achieve economies of scale at a lower cost to consumers," notes Leslie G. Sarasin, president and chief executive officer of the Food Marketing Institute, on Forbes.com. "Americans were able to spend more of their disposable income on cars, education, clothing. They effectively created America's middle class."