Bobalu Berries uses large, tractor-mounted bug vacuums to literally suck pests off strawberry plants rather than spraying the plants with chemicals. ( Courtesy Bobalu Berries )

Building trust in food begins with empowering farmers through one of the largest and most diverse conservation- and sustainability-focused public-private partnerships in our nation's history: America's Conservation Ag Movement. To find the latest news and resources related to the Movement, visit AgWeb.com/ACAM.
---
What started out as a way to reduce the use of chemical pesticides and ensure a quality berry pack has resulted in a sustainable, environmentally friendly and even profitable program for Oxnard, Calif.-based Bobalu Berries.
About three years ago, Bobby and RC Jones, owners of the family strawberry business, were looking for a way to keep their plants clean by eliminating the fruit that did not meet quality standards rather than leaving it on the plant or tossing it into the furrows, said Cindy Jewell, who handles marketing for the company.
Overripe or damaged berries attract pests and can cause diseases that affect plant health and may result in needed chemicals to combat those issues if not managed, she said.
The solution turned out to be a simple one — a bucket attached to pickers' carts.
Rather than tossing the substandard berries to the ground or leaving them on the plant to rot, pickers simply drop them into a bucket.
Eventually, the fruit is sent to the company's own processing operation.
"Any berry that doesn't meet the quality standard to go in that fresh pack goes into the bucket," Jewell said.
Berries are processed at Bobalu's processing facility and used for juice products, frozen berries or as ingredients for food manufacturers.
"They're able to utilize every berry that comes out of the field," she said.
The program also benefits employees by providing a financial incentive, a cleaner working environment and a learning opportunity.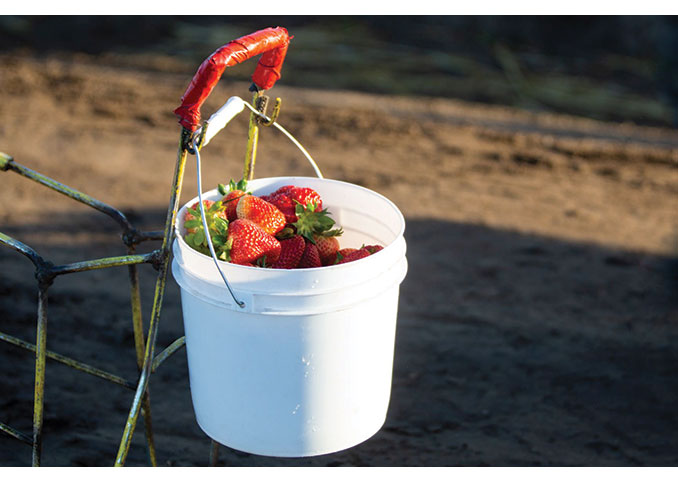 Employees are paid extra for the fruit they put into the bucket, and they don't have to tromp through rotting berries left on the ground when they return for the next picking a few days later, Jewell said.
The significance of what they're doing is communicated to employees.
"It is explained to them that by doing this, in addition to harvesting fresh berries destined for market, they're actually helping the environment and helping the plants they're harvesting every day stay healthy throughout the season," she said.
The program is cost effective for Bobalu Berries.
"They actually benefit from it," Jewell said.
"It gives them ability to direct any out-of-grade berries into an alternative pack."
The practice ensures a quality retail pack and provides an outlet for product that otherwise would be thrown away.
It also reduces the cost and any negative impact of chemicals, Jewell said.
"They realized when they started doing it that there were many benefits to the system beyond the quality standard," she said.
The company plans to spread the word about the program to consumers.
Jewell was in the Santa Maria growing area recently supervising photography and a video shoot that will be posted on the company's soon-to-be relaunched website and on social media.
"It's fun to be able to tell this part of the story," she said. "It's great information and a smart way to do business."
The culling program isn't the only sustainable program Bobalu Berries has implemented.
The company uses large, tractor-mounted bug vacuums to literally suck pests off strawberry plants rather than spraying the plants with chemicals.
And new this year is the introduction of drones to spread persimilis — predatory mites — over a field to eat destructive pests.
In the past, workers would sprinkle the bugs through the field by hand — a process that is "super labor intensive," Jewell said.
"The drone is smooth, fast and achieves good distribution throughout the whole field at a much faster rate," she said.
A drone can do in 15 minutes what might take a worker a couple of hours.
Technological innovation is nothing new for Bobalu Berries.
"Bobalu is always looking at ways they can improve in the field," Jewell said. "They welcome technology, trying new things and being innovative with cultural practices." 
Related:
Americas Conservation Ag Movement
Solid season seen for upcoming summer berries
Southeast berry growers getting ready for spring
Strawberry crop volume picks up