( )
Global sweet potato promotion is growing southern U.S. sweet potato exports.
The U.S. produced 27.38 million cwt. of sweet potatoes in 2018, according to the U.S. Department of Agriculture. The U.S. currently exports 18% of sweet potatoes produced, an 8% increase from 2010.
The American Sweet Potato Marketing Institute is continuing promotional efforts in sweet potato export countries, said Jerry Hingle, president and CEO of International Trade Associates.
"About 40% of our exports go to the European Union, about a third go to the UK, Canada ranks third at 24% and Mexico is a growing market for us," Hingle said. "Only about 2% of our exports go to Mexico, but that is growing rapidly."
ASPMI works to promote and educate buyers and retailers about moist-flesh varieties such as covington and beauregard, he said. 
"We sit down with the produce buyers and explain to them the variety and how they are different than what they are accustomed to," Hingle said. 
"Once we have done the basic introduction of the market, then we go and do in-store tasting, which has been a big part of what we do around the world."
ASPMI tailors sweet potato recipes to countries based on culinary tastes and traditions, he said. This type of promotion helps showcase sweet potato versatility and nutrition.
For example, ASPMI created a healthy sweet potato poutine for the Canadian market, and other dishes for Mexican palates.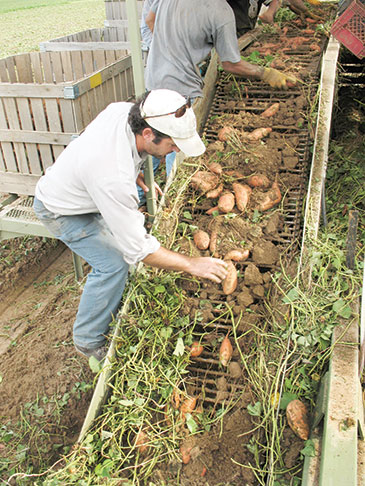 Promotion also includes a "marketing blitz" during International Sweet Potato Week in Europe. ASPMI uses social media campaigning and in-store tastings throughout Europe, Hingle said. 
ASPMI is also looking to expand its global footprint in areas with growing markets for U.S. sweet potatoes.
"We are starting to look in places further east, in places like the Ukraine and Romania," he said. 
"We are starting to do more exploratory work in growing demand for our moist-flesh varieties."
Hingle said ASPMI is gaining a better understanding of where sweet potatoes are going once shipments reach Europe.
"It's important to point out that the work we are doing is benefitting the industry as a whole, even for those who aren't exporting," he said. 
"The work we do gets more volume overseas, so even those who aren't exporting benefit from the higher prices that comes from more supply being shipped."
About half of sweet potato exports are from North Carolina, followed by south Arkansas, Louisiana and Mississippi. California contributes 9% of sweet potato exports, Hingle said. 
Exports as a percent of production have grown from 8% in 2010 to 17.9% in 2017.
"That percentage has surely grown again in 2018," Hingle said. 
By value, exports have reached record levels each year since ASPMI was formed, he said. Shipments were valued at $95.4 million in 2013 and grew to $191.6 million in 2018.
"We at ASPMI have research showing that our work has had a direct effect on export sales growth," Hingle said. 
"What ASPMI has been doing the past five years has really spearheaded the export promotion for the sweet potato industry and expanded their presence around the world."
U.S. sweet potatoes export volumes hit record highs in 2018 and are expected to continue growth throughout 2019 despite a supply drop in the first quarter of 2019.
"We saw a peak of exports at 361,000 metric tons in 2018, which was an all-time record," he said. 
"We are seeing record levels every year the past five years since 2014."
U.S. sweet potato exports remain consistent throughout the year, and Hingle said supply numbers are expected to come back up to previous levels.
"One of the advantages the U.S. has over competitors is that we are able to supply large quantities year-round," Hingle said. 
"We do see some competition in orange-flesh varieties from Honduras and Jamaica. Even though demand spikes in the fall, our exports are pretty consistent over the course of the year."
U.S. sweet potato export growth has been "a real success," Hingle said.
"In terms of export growth, we are up past just about every vegetable out there," he added. "It's been wonderful." 
Related articles: