( Photo courtesy United Fresh )
Led by unanimous support from their board of directors, the United Fresh Produce Association is jumping into the future with the virtual United Fresh LIVE! event the week of June 15.
Travel restrictions and other social distancing measures related to COVID-19 made the typical expo experience impossible in June, but United Fresh officials say the virtual event will offer many levels of engagement.
Programming throughout the week of June 15 will include live and on-demand education, as well as daily Coffee Talks where industry professionals can gather for informal discussions on critical topics, according to a news release. 
Daily Expo Power Hours will bring the virtual trade show to life where attendees will discover innovations and make connections to grow sales and profitability. Each day will conclude with networking events, community receptions and other "virtual" social gatherings.
A big draw will be the fact that the June 15-19 United Fresh LIVE! is free to all attendees.
By removing access barriers for the industry, the event will magnify the potential for education and career growth at the event, according to the release.
Retail buyers can encourage category buyers and commodity specialists to explore new products, brands and solutions to their store's needs, according to the release.
"We could never have all of our buyers at Costco travel to attend an in-person event; but now, every buyer on the Costco team can check in online to see what's new and innovative in every produce category," Frank Padilla, vice president of general merchandise manager, produce and meat, Costco Wholesale.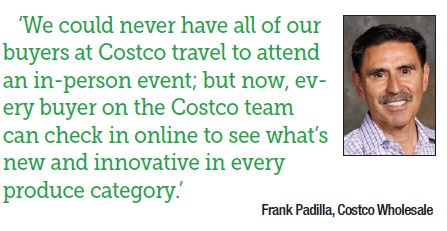 "They can do so live during the event, or 24-7 at their convenience." 
Coming on
The more than 200 exhibitors participating in United Fresh LIVE! have had to revise strategies for engagement, reevaluate what "booth staff" means and reconsider the approach to driving traffic to their booths, according to the release.
That is a compelling process for many, according to the release.
"We no longer need to consider the cost to bring equipment to the trade show," Jordan Schultz, technical support specialist, Kronen Corp., said in the release. 
Utilizing the technology of United Fresh LIVE!, we can create a more impactful learning environment, display out full range of equipment, and produce more value for prospective buyers at a reduced cost for everyone involved." 
Traditional show floor experiences like the Featured Product Showcase will be shared in United Fresh's digital Show Preview, a PDF overview of produce companies' participation this June, according to the release. 
The Show Preview, United Fresh reports, will give attendees an opportunity to start evaluating the booths they'll plan to visit during "Expo Power Hours" the two hours each day dedicated solely to virtual trade show exploration. 
Plan ahead
The virtual event will allow attendees to create their agenda for the five days of content.
On Monday, June 15, at noon Eastern, United Fresh will cut the virtual ribbon on United Fresh LIVE! and begin the week with an Opening General Session.
Every day at noon, attendees will gather for live general sessions including Women In Produce on June 16, Organics on June 17, the Retail-Foodservice Celebration on June 18, and the Closing General Session at noon on June 19, according to the release.
From June 16 to June 19, attendees are invited to participate in Get Fit sessions taking place daily at 9 a.m. Eastern. 
Coffee Talks will take the place of traditional X-Change Sessions beginning daily at 10 a.m. Eastern and focus on topics such as cause marketing, food safety audits and controlled environment growing. These discussions, hosted through United Fresh LIVE! on Zoom, will be followed by workshops from 11 a.m. to noon Eastern, according to the release. 
Attendees will access all content through the Lobby of United Fresh LIVE! once they are logged onto the platform.
United Fresh said dedicated "Expo Power Hours" will take place each day from 1-3 p.m. Eastern where everyone on the platform will be encouraged to explore the virtual expo hall. 
Exhibitors will be hosting content experts, booth give-aways, live field and facility tours and more during the Expo Power Hours, according to the release. 
With more than 200 exhibitors, the daily expo hours during the week will allow attendees to experience the full trade show, and exhibitors are planning to change up their content daily, according to the release.
Each day will conclude with community receptions and happy hours hosted through the platform, United Fresh said. 
In addition to the International and Food Safety Receptions taking place on Monday at 5 p.m. Eastern, attendees can join the open Happy Hour receptions June 15 to June 18 starting at 6 p.m. Eastern. The week's networking events will conclude evening of June 18 with the United Fresh LIVE! Celebration. 
Access through Sept. 1
One big benefit of United Fresh LIVE! is that the platform is accessible to attendees 24 hours a day, 7 days a week throughout the summer, according to the release. General sessions and workshops will be accessible on-demand and expo booths will be open for exploration until Sept. 1, according to the release.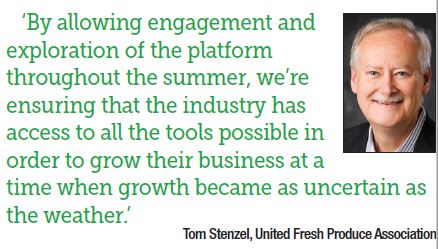 "We've really opened the flood gates of accessibility to the industry," Tom Stenzel, United Fresh president and CEO said in the release. 
"By allowing engagement and exploration of the platform throughout the summer, we're ensuring that the industry has access to all the tools possible in order to grow their business at a time when growth became as uncertain as the weather."
Registration for United Fresh LIVE! is free at www.unitedfreshlive.org, and attendees are encouraged to register in advance in order to have time the morning of June 15 to set up their personal profiles and upload their headshot on the platform, according to the release.
"We are an industry that thrives on personal connections," John Toner, United Fresh vice president of convention & industry collaboration, said in the release. 
"Handshakes and hugs are critical to our relationship building. Until we're able to interact in that capacity again, I'll look forward to seeing familiar faces and making new connections through United Fresh LIVE! 'See' you online!" 
Related content:
BrightFarms' Abby Prior reflects on innovation in going virtual
United Fresh offers Cornell leadership program
Sarah Frey to speak at Women in Produce event