( Photo courtesy Ashley Nickle )
A two-headed consumer strolls around today's grocery stores, confusing food producers and packers alike. One day the consumer searches out food products that are local, organic and welfare-friendly. The next week, that same consumer goes down the aisle and chooses food items that are cheap, affordable and safe. 
The challenge? A two-headed consumer doesn't behave the same way all the time. 
It's puzzling to food companies and others and is causing shifts in what retailers buy from growers.
"Suddenly, big is bad and food companies are really struggling with that new paradigm," says Aidan Connolly, chief executive officer of Cainthus and president of AgriTech Capital. "Before now, being big was good. People wanted to drink the same soda, eat the same cereal and have the same cookies as their neighbors. You used to gain credibility by being associated with big brands."
But that's no longer true. Food companies are now trying to guess what consumers want. A new global survey by Cargill on consumer expectation says consumers want growers to be sustainable.
"Words like safe, healthy, local were words that used to come to the top of the list of what consumers wanted farmers to be," says Emily Johannes, director of sustainability for K-Coe Isom LLP, referencing Cargill's survey. "Now they want us to be sustainable. They aren't saying they want us to all be organic or all plant-based protein – this is a huge opportunity for us to be who we want to be."
Ed Treacy says that in the produce world, the word sustainability is integrally linked with the terms food safety and traceability. That means growers, packers and shippers must be prepared to tell their individual stories.
"The public wants to know the stories of how food is grown, how the workers were treated and who picked the produce in the field," says Treacy, vice president of supply chain and sustainability at the Produce Marketing Association.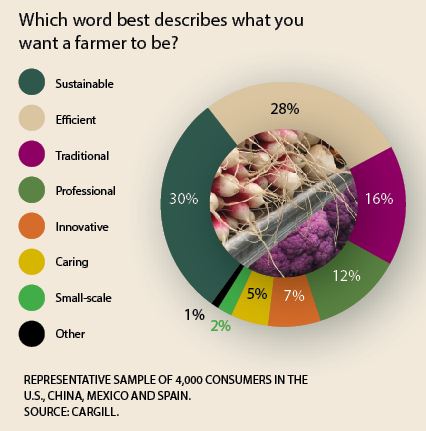 The Rise of Prosumers
Connolly refers to consumers as prosumers—people who actively become involved with the design, production and delivery of the goods and services they consume. "What they choose to consume reflects their values, aspirations and beliefs," Connolly says. From a company perspective it means that more and more prosumers shape, and even control, the message and drive demand — not the manufacturer.
"You're seeing questioning of farm practices that we've never had to be concerned with," Connolly says. "On a global scale, that's being reflected in what farmers are choosing to do."