The latest numbers for fresh produce sales show a gap between dollar sales and volume sales. ( IRI and 210 Analytics )
Charts courtesy IRI and 210 Analytics
---
Highlights
Fresh produce again saw sales well above the same week in 2019.
Measures put in place to stop the spread of COVID-19 and issues caused by response to the virus could be hindering sales. These include out-of-stocks, shortened store hours, limits on number of people in the store, service departments being closed, and more.
There continues to be a gap between volume and dollar sales, indicating deflation in some areas.
---
Fresh produce sales remain noticeably higher than the same time last year as the coronavirus crisis continues into a second month.
For the week ending April 5, dollar sales were 14.2% higher than the same week in 2019, according to IRI. The week of March 29, sales were up 8.1%.
Recent weeks mark a normalization of demand, to some extent, after produce sales saw jumps of 29.7% for the week ending March 22 and 34.5% for the week ending March 15.
"Sales for the first week in April were likely influenced by the earlier Easter and a higher everyday demand that is driving a new baseline that sits well above the old normal," Joe Watson, vice president of membership and engagement for the Produce Marketing Association, said in a news release.
"At the same time, sales results must be seen against the backdrop of many stores having shortened opening hours, closed service departments, metered entry of shoppers, purchase limitations on popular items and continued out-of-stocks for others," Watson said.
He noted the effect of canceled events, from March Madness to Easter celebrations, should also be taken into consideration.
Related article: Retailers seeing foot traffic patterns change amid COVID-19
Anne-Marie Roerink, principal of 210 Analytics, pointed out the gap between dollar sales and volume sales as indicative of deflation in some areas. The gap is most pronounced for fresh vegetables, which saw a 21.4% increase in dollar sales and 31.8% increase in volume sales for the week ending April 5. Fresh fruit dollar sales were 7.4% and volume sales 8.5%.
Watson highlighted several of the commodities that are seeing big differences in volume sales growth and dollar sales growth. Avocados saw 19.6% dollar growth for the week compared to 2% volume growth; onions saw 37.1% dollar growth and 53.9% volume growth; and carrots saw 25% dollar growth and 33.9% volume growth.
"Others outside the top 10 in absolute dollar growth were limes (16 percentage point gap), asparagus (13 points), Brussels sprouts (14 points), cabbage (12 points) and celery (30 points)," Watson said. "Celery has been a top seller amid the juicing trend, but for the week of April 5, dollars are down 3% whereas volume sales were up 27%."
A dearth of demand from the foodservice sector, which has been hit hard by measures put in place to slow the spread of the coronavirus, has put pressure on prices for many items.
Throughout the crisis, vegetables have benefited more from the increased demand than fruit.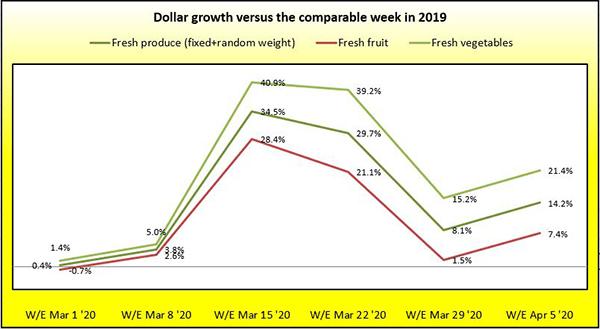 "While challenging given shoppers' current grocery shopping patterns, generating demand is crucial for fresh fruit," Jonna Parker, team lead for fresh for IRI, said in the release. "Fruit typically benefits from eye-catching displays and impulse sales, and the early indicators are fewer trips and more online ordering for the foreseeable future.
"I'm encouraged to see retailers leverage oranges merchandised as vitamin C displays and introduce more bagged produce to help speed up shopping and give consumers ease of mind," Parker said.
Related article: Retailers tweak promotional plans as needed amid COVID-19
She noted that, while health authorities continue to reassurance people that fresh produce is safe to consumer, retail is dealing with a situation in which perception is reality.
PMA's Joy of Fresh campaign is designed to reassure shoppers of the safety of fresh fruits and vegetables and point them to overall food safety practices they should always follow.
For more coronavirus coverage, check out our landing page on the topic here. To provide input on how the virus is affecting your business, take The Packer's survey.