Bowery Farming appoints Google vet Injong Rhee as chief tech officer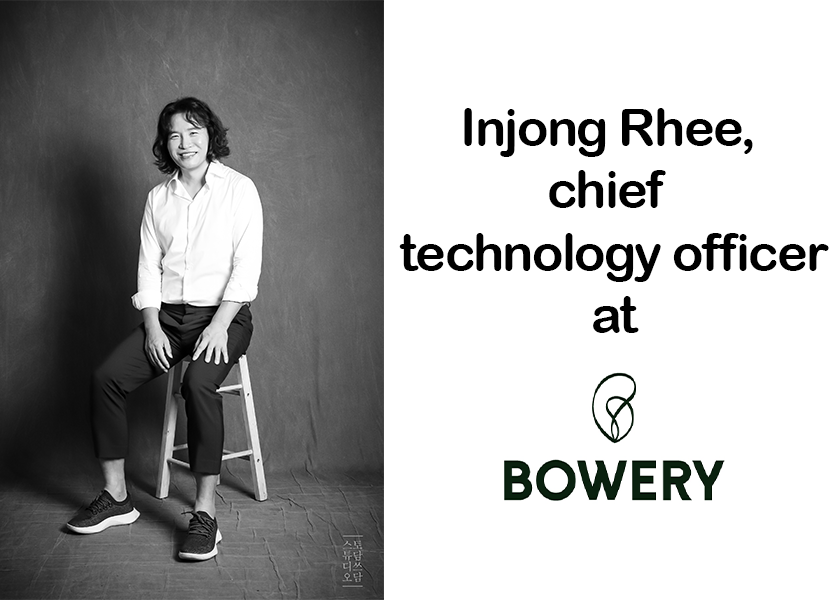 There's a new leader in tech at a vertical, indoor grower based in New York City, and they got him after Google had him.
Injong Rhee will be the chief technology officer at Bowery Farming, reporting to CEO and founder Irving Fain, according to a news release.
In this new role, Rhee will speed up the proprietary smart-farming technology across Bowery's increasing network of farms.
"Bowery is building a global business with world-class technology and human ingenuity at its core, revolutionizing how food is grown, in a more efficient, scalable and sustainable way," Rhee said in the release. "It has been a lifelong goal to make a positive meaningful difference in people's lives using technology, which is exactly what Bowery is doing."
Since 2015, Bowery has been building indoor farms powered by BoweryOS, which integrates software, hardware, sensors, computer vision systems, machine-learning models and robotics to automate all operations.
"Injong is a tech powerhouse, with more than three decades of experience developing successful products at the intersection of software and hardware systems, which ties directly to the work we're doing at Bowery with the BoweryOS," Fain said in the release.
Before joining Bowery, Rhee was Google's vice president and general manager of Internet of Things (IoT). Under his leadership, Google launched the full hardware and software end-to-end stack of Cloud IoT platform, including the parts that enable developers to deploy and manage their intelligent services from the edge all the way to the Cloud.
Before joining Google, he was the chief technology officer of Samsung Mobile and its head of engineering, leading software and services. Recognized for his contribution in making Samsung a significant player in the software industry, he has been called "the invisible hand of a great designer" behind Samsung Galaxy smartphone software and their user experience design, according to the release.
Rhee is a two-time winner of the IEEE William Bennett Award, in 2013 and 2016. Before joining Samsung, he was a professor at North Carolina State University for 15 years.
Injong's new role at Bowery comes after the company had 600% sales growth in 2020 with brick-and-mortar grocery retailers and more than quadrupled sales on e-commerce platforms, including Amazon, according to the release.
The company sells to more than 700 grocery stores and is on track to expand to more than 1,000 in the coming months.
Bowery's next farm will be in Bethlehem, Pa.