Vacuum cooling pulled heat and water from fruits and vegetables immediately after harvest, eliminating the need for ice. Wooden crates that had once been used to support all the ice weren't necessary, and fiberboard containers emerged. ( )
While no one wants a war, the technologies that stem from them can bring big change.
In the early 1940s, rationing on canned and frozen fruits and vegetables was in full swing because the U.S. government required tin and metal for the war effort. The result? Consumers started grabbing more of the fresh stuff. Couple that with innovations in plastic films, trays and machinery during World War II, and you've got the ideal recipe for retail packaged produce packs.
Packaging Experiment  Pays Off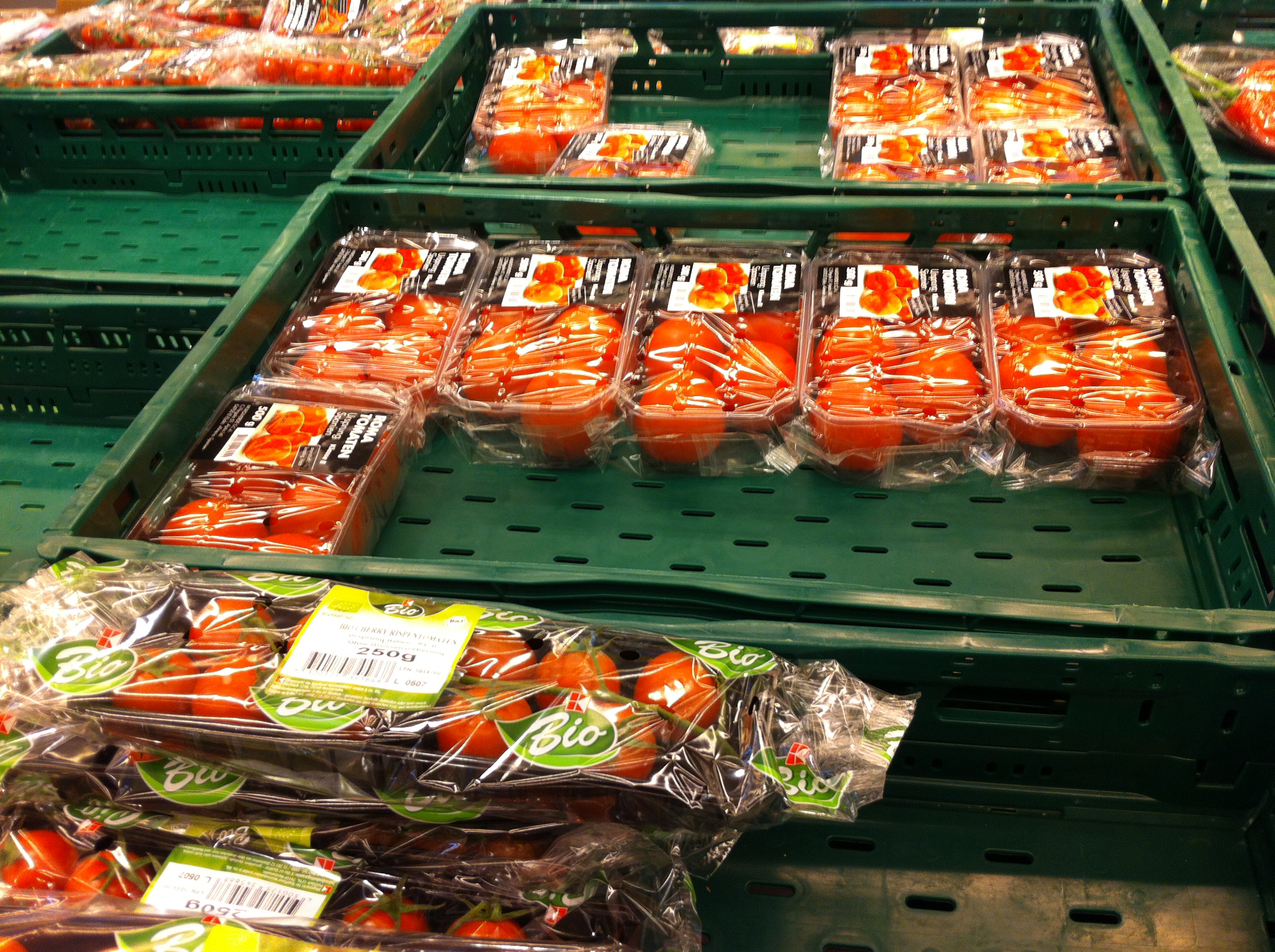 Born of convenience, tomatoes were among the first commodities to be offered packaged to consumers, with 1-pound clear-wrapped tubes of tomatoes hitting shelves before the war in the 1930s.
"[Cellophane] … helped consumers make buying decisions for themselves based on sight, while keeping food products fresh and clean," noted a Harvard Business School report titled "Cellophane, the New Visuality, and the Creation of Self-Service Food Retailing."
In 1944, leaders from A&P, refrigeration companies and packaging manufacturing firms joined forces to conduct an experiment in produce packaging—a project packing fresh produce in a completely refrigerated environment. Companies used transparent film to overwrap fruits and vegetables, then they machine-labeled them, price stamped them and kept the commodities in a refrigerated warehouse until they could be sold to the consumer.
"This Columbus, Ohio, experiment … showed that prepackaging combined with refrigeration;

saved half the usual distribution loss on some items,
saved labor,
lengthened shelf life of produce,
and received good consumer acceptance of prepackaged produce,"

- outlined a 1955 report "History of Prepackaging Fresh Fruits and Vegetables."
Data from the study found that the estimated product loss for retailers who handled and trimmed fresh fruits and vegetables in their own backrooms unrefrigerated was about 30%. The experiment showed that the loss to retailers handling prepackaged produce under refrigeration the whole time was nearly zero. Retailers loved that their food waste was cut by nearly one-third. Consumers loved prepackaged produce for its convenience.
Ninety percent of housewives said they preferred consumer-sized packs because they "provided better quality, greater cleanliness and quicker shopping," noted The Packer's 100 Years of Produce: Remembering the 1940s. "By 1958, roughly 35% of fresh produce was prepackaged before it reached the retailer," The Packer announced. In an era where convenience-packaged TV dinners were mainstream, it's not surprising that by 1969, 46% of produce was packaged before it made it to the supermarket.
In 1949, tradesmen formed the Produce Prepackaging Association to pool resources and share educational goals.
Wood Crates Fade, Fiberboard Takes Over
Less than a decade later, Bud Antle experimented with vacuum cooling and pioneered shrink-wrapped lettuce in California.
Vacuum cooling allowed packers to quickly pull heat and water from fruits and vegetables immediately after harvest, drastically cutting the risk for microbial contamination and decay. Cooled commodities didn't have to be iced, so wooden crates that had once been used to support all the ice weren't necessary. Less spoilage brought longer shelf life. In fact, early tests proved that vacuum cooled lettuce was a higher quality and had a longer shelf life than iced product in wooden crates.
Plus, vacuum-cooled tubes could be moved from one production area to another as the season progressed. Lettuce and oranges were some of the first to consider the switch from wooden crates to cardboard boxes. Boxes made of fiberboard were lighter, more easily broken down, and recyclable.
The first commercial shipments of lettuce started being shipped in corrugated cartons in 1950, The Packer reported. Fiberboard cartons caught on like wildfire. 
"By 1954, 75% of all lettuce harvested in the Salinas-Watsonville district was vacuum cooled," reported The Packer's 100 Years of Produce: Remembering the 1950s.
Synthetics Take the Lead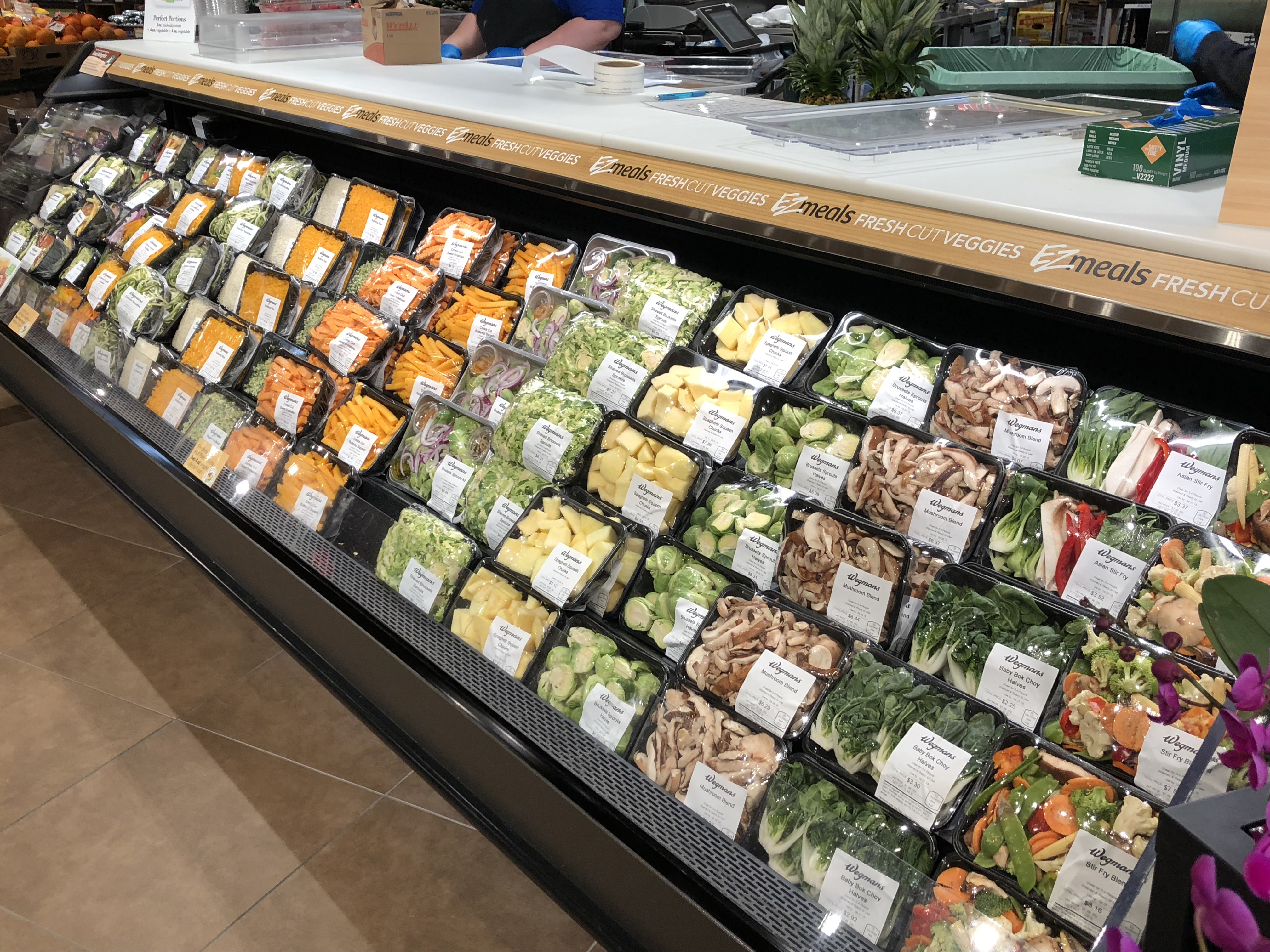 World War II brought a turn toward synthetic materials, particularly plastics, in an effort to conserve natural resources. The U.S. began to replace metals and glass in manufacturing, processing and shipping. 
In 1952, Sambrailo Packaging worked with Driscoll and others to launch pulp baskets with cling wrap for strawberries. By the 1970s, distributors began to consider synthetic bins, and even pallets, for shipping fruits and vegetables. 
Large bins or totes for items like stone fruit and grapes made from synthetic plastic were estimated to be up to 40% lighter than wood crates, and designs eventually accounted for ventilation to minimize loss. 
At retail, the plastic clamshell, in particular, would later become an industry standard.