Dr. Oz talks to "food investigator" Ali Rosen about romaine and E. coli. ( Courtesy www.doctoroz.com )
Television personality Dr. Oz featured input from the California Leafy Greens Marketing Agreement in a mid-December show about romaine safety and the recent E. coli illness outbreak. 
While the Dec. 16 show contained "some concerning dramatic effects" to show how romaine may be contaminated in the field or processing facility, Dr. Oz also provided space for industry input, said April Ward, marketing and communications director for the California LGMA.
"We were very encouraged to see the show's producers relied heavily on information provided by the LGMA to describe actions being taken by industry to protect consumers," Ward said in an e-mail. "More importantly, the overall point of the segment encouraged continued consumption of leafy greens — in particular iceberg lettuce," Ward said.
Dr. Oz interviewed food journalist Ali Rosen and Cara Mangini, executive chef and owner of Little Eater, Columbus, Ohio, who was also the first "vegetable butcher" at Eataly.
Rosen describes three possible sources of pathogens in E. coli outbreaks traced to romaine: irrigation water, fieldworkers and wildlife. She said the industry has updated water sanitation policies on romaine lettuce within 21 days of harvest, which the LGMAs in California and Arizona adopted after last fall's E. coli outbreak. She also noted there are audits with 160 checkpoints through the LGMA.
"The industry is actively and urgently working on this to try to ensure this doesn't happen again," Rosen said.
A statement in a question-and-answer format from the California LGMA is featured on the Dr. Oz website.
"Numerous efforts throughout the produce industry are underway to help us learn how future outbreaks can be prevented and contained," according to the statement. "There is an incredible amount of attention throughout the entire supply chain on improving the safety of leafy greens. This is without question the most important issue on everyone's mind."
The California LGMA and other leafy greens industry representatives were featured on a Dr. Oz Show episode last year following a Yuma, Ariz., outbreak.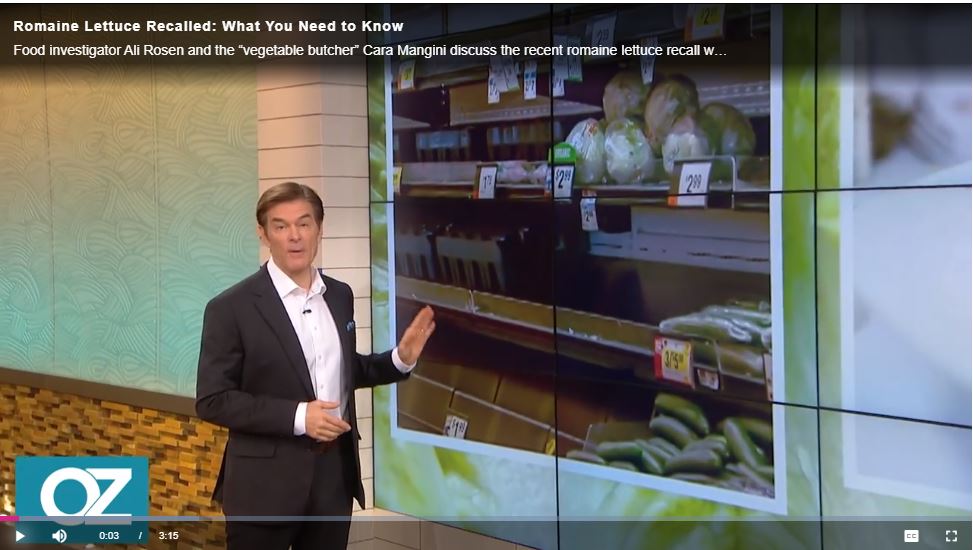 "Although we will continue to be measured in our response to inquiries from the Dr. Oz Show, we are pleased the show's producers are relying on the LGMA as a credible source of information for their audience," Ward said, noting that the Dr. Oz show consistently scores ratings with daytime television's primary demographic of women from ages 25-54 and is viewed by over 1 million households. 
Related content:
FDA continues E. coli investigation, seeks source of contamination
LGMA's conducting review of food safety practices
Three E. coli outbreaks have a Salinas romaine grower in common