Online grocery sales remain elevated as consumers plan to continue shopping online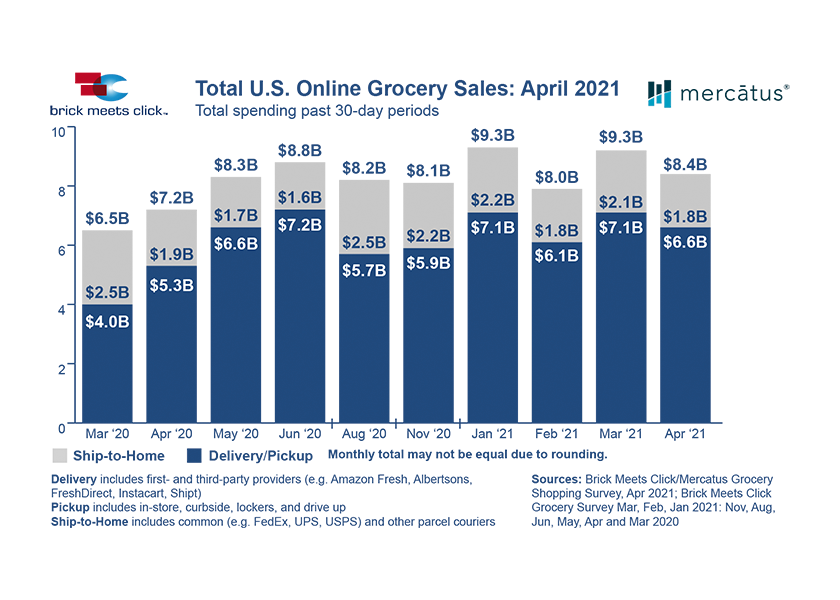 Retail consulting firm Brick Meets Click found in its latest consumer survey that online grocery sales continue to remain well above pre-pandemic levels even as month-over-month sales decline.
Sales in April were $8.4 billion – a 10% decrease from March but a 16% increase from April 2020, according to a news release.
Nearly 68 million U.S. households purchased groceries online last month, down 12% versus a year earlier. That decrease, however, is offset by more engagement among monthly active users of online grocery, according to the release. Orders by monthly active users accounted for 78% of April sales.
"Online shopping has remained an attractive way to buy groceries for a sizable segment of the U.S.," David Bishop, partner in Brick Meets Click, said in the release. "Last year, retailers were in a race to meet the dramatic surge in demand. This year, it's about executing a sound and sustainable strategy, with the imperative squarely on improving integration and implementation."
A new report from Coresight Research expects the increased use of online grocery to continue even as people get vaccinated and resume many traditional activities.
"Over one-third of online grocery shoppers do not expect to change their online grocery shopping habits once the crisis eases or ends," according to the report. "Additionally, over one-quarter of shoppers said that they plan to buy groceries online after the crisis subsides more frequently than they did during."
Coresight found that online shoppers 30-44 are the most likely to keep shopping online, with almost 63% saying they plan to do so as frequently as they have during the pandemic or more frequently.
Operations and strategy
Mercatus, a firm that works with grocery retailers on e-commerce experience, sponsored the Brick Meets Click study. Mercatus CEO and president Sylvain Perrier noted in the news release that keeping the higher level of engagement in online shopping – and growing that business – will require operational improvements for many retailers.
"As the country opens, we're consistently seeing double the number of active online shoppers compared to pre-COVID," Perrier said in the release. "At the same time, we know there's increasing frustration with poor execution as evidenced by the widening repeat purchase gap between first- and fourth-time online customers.
"My message to grocery retail executives is blunt," Perrier said. "There are no shortcuts. If you want to maximize the value of your digital investment, you also need a well-thought-out operations plan, one that can flex in response to shopper demand and help deliver a top-notch ordering and fulfillment experience."
Coresight found that, although many more people shopped online last year than ever before, for about 38% of them, those purchases represented a small amount of their total grocery spend.
"Retailers interested in growing in the online grocery market should do more than simply boost customer participation; they should focus on converting occasional and small-basket shoppers into regular, full-shop customers," according to the report.
For produce, many industry members feel that online shopping has lots of room for growth; creating impulse sales is one key area that currently – for most retailers – is much more easily done in-store versus online.