Top 10 social media follows for produce industry professionals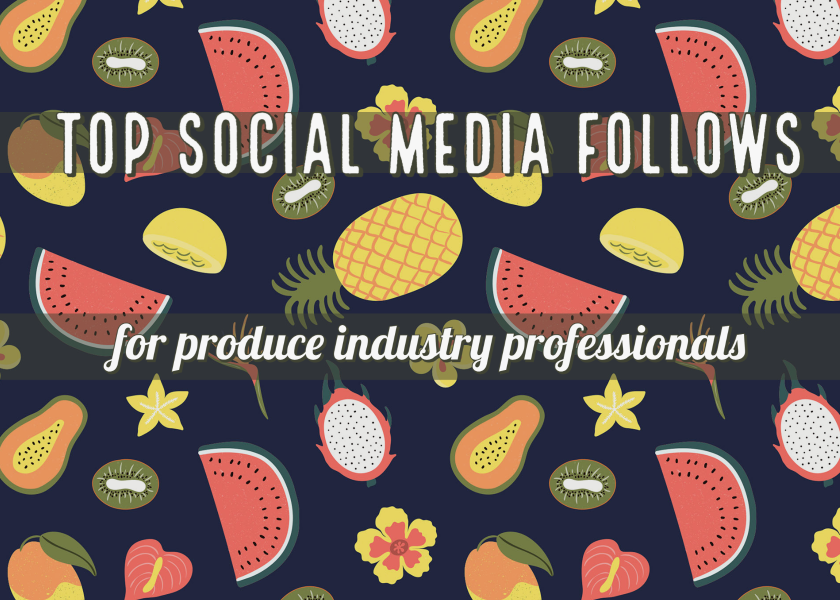 If you're looking to stay current with food and retail trends and consume great content from fellow industry members, LinkedIn is the place to be. Here are a few of the people you can follow for great information and perspective in 2021.
Let us know which other industry folks you find to be great follows by emailing us at news@thepacker.com. 
10. Paul Manfre, general manager, Top Katz
The definition of an old-school produce guy, Paul does weekly videos on LinkedIn about the market, supply and demand, and the ins and outs of conducting business in the industry. Paul's straight-shooter commentary, including perspective on retail strategy, has earned him a following of more than 10,000 on LinkedIn.
9. Cathy Burns, CEO, Produce Marketing Association

If you enjoy the annual State of the Industry address, you will enjoy Cathy's LinkedIn feed. She shares articles on macro trends across retail, foodservice, nutrition, media, marketing and other relevant areas.
8. Bill Bishop, chief architect, Brick Meets Click
An expert on the convergence of physical and digital grocery retail, Bill doesn't often write specifically about fresh produce, but his insights on the developments in grocery and advice on how companies can adapt to stay competitive are can't-miss content for anyone looking to take macro trends into account as they plan for the future.
7. Parker Christopher, produce manager, Metropolitan Market

Those who love creative merchandising can't go wrong following Parker. The displays he and his team create are sharp and innovative. If you're looking for inspiration, check out his work.
6. Healthy Family Project | Produce for Kids

The marketing efforts of this organization focus on the role of fresh produce in a healthy family. Their consumer outreach and their partnerships with retailers, particularly retail dietitians, can be especially effective this year as more people than ever are focused on their health.
5. Nikki Cossio, founder and CEO, Measure to Improve
Nikki's feed focuses on sustainability, including research on consumer interest; articles on how companies are making sustainability part of their strategy; and updates on organizations working with Measure to Improve to achieve sustainability certifications.
4. Hugo Hays, global director of compliance and food safety, Fyffes
Hugo, who spoke recently at The Packer's first Sustainable Produce Summit, shares posts about social responsibility, sustainability and food safety developments relevant for the industry. Particularly for those interested in GLOBALG.A.P., Hugo is a great follow.
3. Brian Dey, senior merchandiser and natural stores coordinator, Four Seasons Produce

If you love great presentation of produce, the stellar display pictures that Brian posts regularly — and the enthusiasm with which he shares them — will make your day. Brian also shares his expertise through a regular column for PMG that covers topics like seasonal resets, training, display contests, wet rack best practices and much more.
2. Karen Caplan, owner, Frieda's Specialty Produce
The top follow-worthy feature of Karen's LinkedIn feed is her blog, in which she shares reflections on a wide array of topics, from leadership, relationship management and goal-setting to finding great running shoes, becoming a grandparent and contemplating the pros and cons of retirement. It's smart, fun, authentic, inspiring stuff.
1. Shay Myers, CEO, Owyhee Produce
Shay's social media videos — which reach a following of nearly 12,000 on LinkedIn and more than 230,000 on TikTok — cover all things onions, from planting and harvesting to storage and transportation. The videos are an easy watch and don't require any produce background to understand, which is likely why the consumer audience has responded so positively. For industry members, these videos are especially notable for the way the information is delivered. Produce marketers in particular would do well to take notes on the topics Shay covers and how he does so. The behind-the-scenes, "infotainment" nature of the content is awesome. The industry would benefit from more of it.
---
Which other industry members do you find to be great follows on LinkedIn? Let us know by emailing to news@thepacker.com.