( Photo courtesy JosepMonter; Source pixabay; Graphic Brooke Park )
Second only to bananas, apples are a consumer favorite and the No. 2 fruit in the produce department. Overall, apples were the fourth most popular item in the Fresh Trends survey this year.
There aren't many healthy foods that are as easy to grab and nutritious as apples, and consumers know it. Nearly nine in 10 respondents to Fresh Trends 2020 (88%) said they selected apples as a snack sometime in the past year (and most people probably did it many times over). Almost a third of shoppers (31%) noted that they used these sweet, crisp fruits as an ingredient, and almost as many (28%) said they served apples to end a meal as a dessert option. They were also popular in salads, side dishes and appetizers.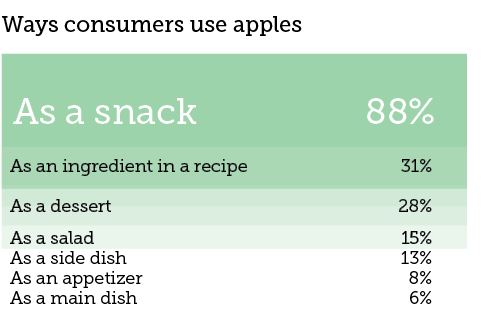 Five years ago, fuji and gala varieties were fighting for their place at the top of the apple list against the strongly established red delicious variety. In the past few years, the Honeycrisp has slowly inched its way toward the top—this year Honeycrisps are No. 2 after galas. Granny smiths—a great cooking apple—have stayed secure as one of the top three choices for the past three years. Options like braeburn and SweeTango fell off the list this year.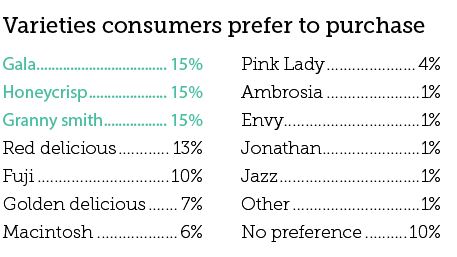 The likelihood of an apple purchase increased according to income for the fifth consecutive year. Consumers earning more than $100,000 annually were among the most likely to buy apples along with Caucasian consumers, shoppers over age 50 and Midwestern consumers.
Empty-nesters were more likely to buy apples than those with kids living at home, a trend now in its third year. Families with two kids were the most likely to buy apples when considering family size. Shoppers age 50 and older comprised the group most likely to buy apples overall.
Last year shoppers in the "other" ethnic group were the most likely to make an apple purchase when it came to ethnic background; this year that group was one of the least likely to buy overall, along with African American consumers and those with three children living at home. Caucasian consumers, on the other hand, were among the most likely to buy the fruit overall. 
One in 10 apple buyers said they always selected organic fruit, while 27% said they opted for organics at least some of the time.