Heath Wetherington, director of operations for Baker Farms, said two to three inches of rain have fallen for several weeks on many of the company's crops, such as this field of collard greens. ( Courtesy LEM Ag/Baker Farms )
A warm winter and rainy spring with a few hail storms and tornadoes have put a damper on some of Georgia's crops, which peak in marketable volume mid-May to mid-June.
The wild, wet weather could mean as much as 20% of the Vidalia onion crop will be lost, said Bob Stafford, manager of the Vidalia Onion Committee.
"But it's hard to tell right now," Stafford said April 27, while harvest was underway since April 16 shipping began. 
"They sat in the water for awhile. It did stop the sizing, but we're still going to have a marketable amount."
At Baker Farms at Norman Park in southwestern Georgia, two to three inches of rain have fallen every week for several weeks on the farm's kale, turnip greens, mustard greens, collards, turnip roots, beet roots, chard, cilantro, cabbage and broccoli, said Heath Wetherington, director of operations. 
But Baker Farms grows year-round and benefits from warm, moist air from the Gulf of Mexico, helping crops avoid deep freezes in winter and droughts in summer. 
Some crops came in early during "extremely warm" temperatures in January and February, but the heavy rains in February made the younger plants sit still for awhile.
"What I'm seeing in our fields is a split season," Wetherington said. He expects volume to remain the same as previous years.
A&M Farms, Lyons, Ga., will have a 15% to 20% reduction in yield of Vidalia onions, said owner Aries Haygood. He's also president of the Georgia Fruit and Vegetable Growers Association and chairman of the Vidalia Onion Committee.
Related content: Rain, hail take out some of the Vidalia onion crop
"I think what I see is probably a good snapshot for the industry," Haygood said. 
"It's been a challenging year. Our crop is not as big as it has been in the past, and then you throw in the coronavirus — you don't know what's going to happen."
Haygood said his farm received back-to-back heavy rains during growing season, which kept the ground saturated while onions were trying to bulb, creating size issues and more seed stems. Also, heavy rain on growing onions leads to more disease, such as center rot. 
Expect more medium-sized Vidalia onions this season, Haygood and Stafford said.
Hail at the start of April at Generation Farms, Vidalia, Ga., damaged a few fields, causing a loss of about 85 acres, or 10% of the Vidalia onion crop, said Lauren Dees, sales and marketing manager.
Rainfall delayed harvest several times at Bland Farms, Glennville, Ga., said Delbert Bland, president and owner.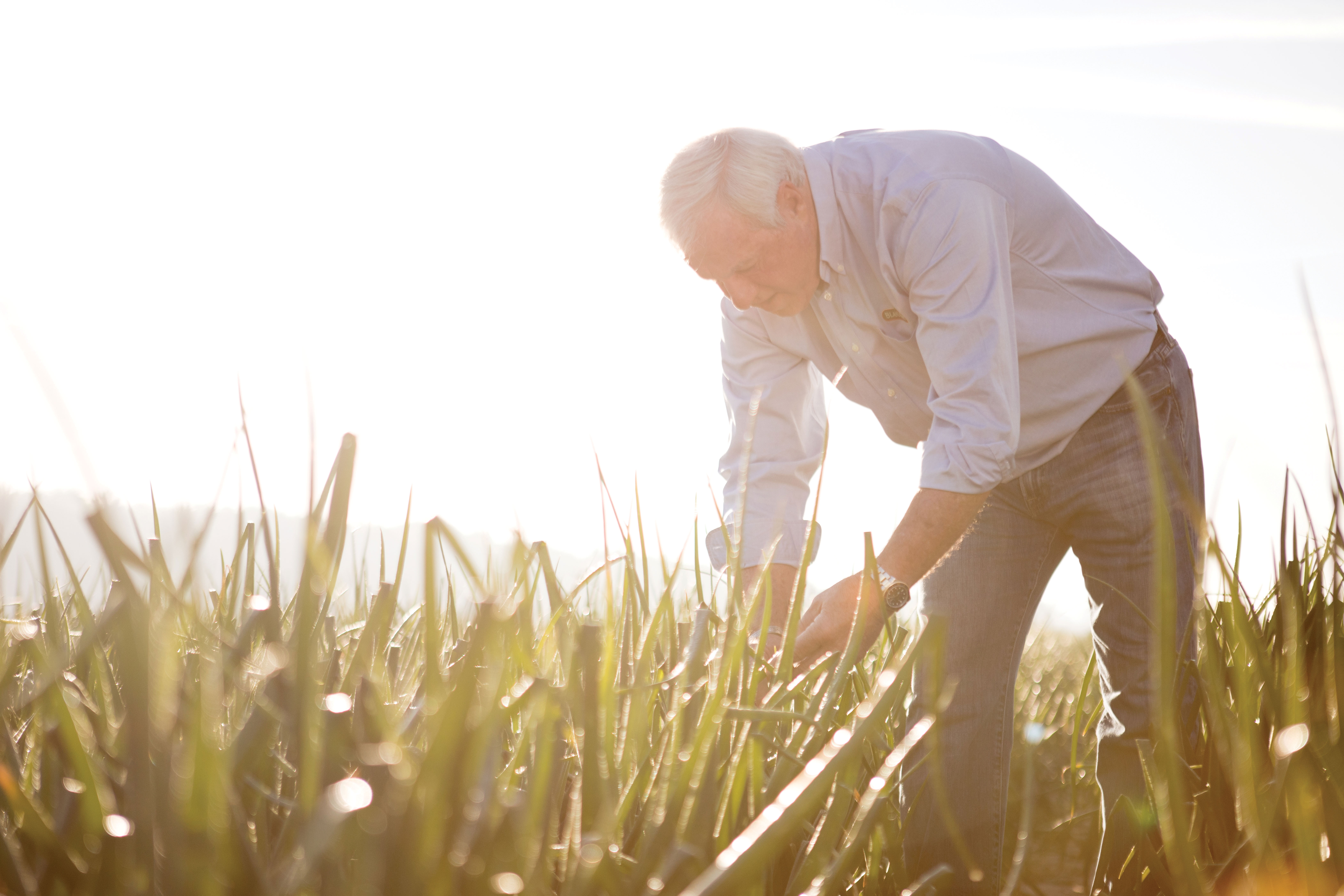 Like other Vidalia onion growers, Bland's acreage hasn't increased this year, but volume is good because more onions are being grown on less land.
However, John Shuman, president and CEO of Shuman Farms, Reidsville, Ga., said the Vidalia onion industry will see lower yields per acre compared to the past three to four years, as well as a smaller size profile.
"This year, we experienced record rainfall throughout the winter along with warmer temperatures, which has put a tremendous amount of stress on the crop," Shuman said. "However, we will still have a markable crop; the quality is sound." 
The extra-wet spring has caused trouble getting into the fields and more disease, but overall, crops look like they're doing OK, agreed Charles Hall, executive director of Georgia Fruit and Vegetable Growers Association.
Related content on Georgia Produce
Corbett Bros. Farms, Lake Park, Ga., part of the Grower Network, had some tornado damage in mid- to late April, said Eric Bolesta, Grower Network salesman. The farm, situated in the southern-central part of Georgia close to the Florida border, produces cabbage, cucumbers, bell peppers, eggplants, hot peppers and citrus.
On April 23, a storm with hail and tornadoes damaged blueberries during harvest, and one farm in the southwest lost parts of a squash field from a tornado the week before, Hall said.
"What percentage of the crop it got, we don't know yet. These were the early crops," Hall said about highbush blueberries, adding that he wasn't sure if the later season variety, rabbiteye, was hurt as well.  "But we haven't had a good blueberry crop in awhile." 
Late freezes in 2017, 2018 and 2019, plus hurricanes Irma and Michael, tore into the crop.
"We've just had a lot of Mother Nature problems down here," Hall said.
By farm gate value, blueberries are the biggest Georgia fruit crop, followed by the state's official fruit, the peach.
Most other crops, such as squash and cucumbers, come in April, but peppers in start early to mid-May. 
There don't seem to be any major shifts in crop acreage from last year. 
Related content on Vidlia Onions