The Packer introduces Lettuce Learn More Podcast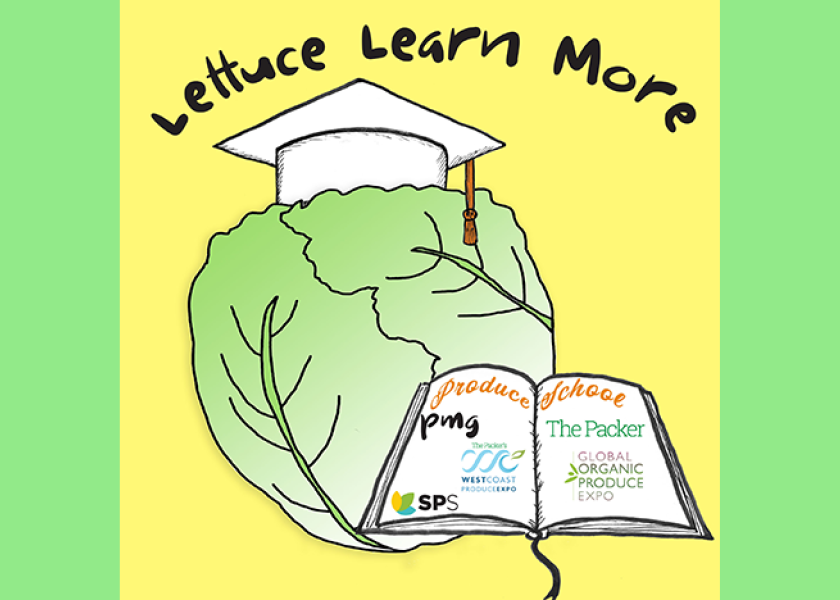 The education sessions from The Packer's recent Sustainable Produce Summit and this week's West Coast Produce Expo are coming soon to the new Lettuce Learn More Podcast.
In more normal years, many industry members who attend trade shows don't get the chance to consume as much education content as they'd like because they're responsible for setting up the booth, preparing for meetings or keeping tabs on what's happening back at the office. In the current virtual environment, it can be even more difficult for people to take the time to listen to and engage in educational opportunities because more pressing responsibilities are right there in the next browser window or the inbox.
With the new Lettuce Learn More podcast, education content from The Packer's events will be available through Apple Podcasts, Spotify and other popular listening platforms.
Episodes featuring Sustainable Produce Summit content include discussions on the sustainability progress of the industry; sustainable packaging; social responsibility certifications; responsible use of water and much more. Industry leaders whose insight was featured at the event include Bruce Taylor of Taylor Farms, Rod Braga of Braga Fresh Family Farms, Nikki Cossio of Measure To Improve, Ricardo Crisantes of Wholesum, Jay Singh of Cal Poly, Hugo Hays of Fyffes, Lori Taylor of The Produce Moms and more.
Following the debut of Sustainable Produce Summit sessions on the podcast, content headlining this week's West Coast Produce Expo will also be available on the podcast. Retailer conversations and industry panels covering key topics, including how to adapt your business strategy for the coming years in light of 2020, are on the schedule.
Industry leaders contributing insight for that event include longtime industry veterans and consultants Cindy Jewell, Bruce Peterson, Julie Krivanek, Mike O'Brien and Dick Spezzano along with Anabella de Freeman of Walmart, Jeff Cady of Tops Friendly Markets, Scott Bennett of Jewel-Osco, Rob Ybarra of Rouses, Michael Schutt of Raley's and more.
For more podcast content from The Packer, check out the conversations happening on our Tip of the Iceberg Podcast.