( )
It's been a softer year for both truck rates and fruit and vegetable shipments.
Through Aug. 13, year-to-date shipments of fresh fruits and vegetable are down, according to U.S. Department of Agriculture statistics.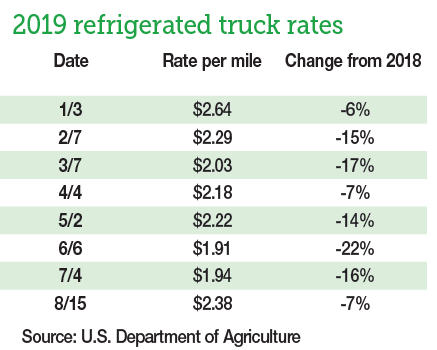 Prices paid for refrigerated trucks also are down from a year ago, according to the USDA.
The USDA reported year-to-date shipments of fruits and vegetables totaled 1.16 million (40,000-pound) truckloads as of Aug.
13, down 6% compared with 1.23 million truckloads the same time a year ago.
Perhaps reflecting that reduced need for freight, the USDA reported that average refrigerated truck rates for routes from 1,501 miles to 2,500 miles were also down this year compared with a year ago.
On Aug. 15, the USDA reported refrigerated truck rates were down 7% compared with a year ago, and rates during the summer were consistently double-digit percentages lower than a year ago.
Planting delays because of erratic weather this spring may have caused some of the shortfall.
Season-to-date shipments of broccoli from central California were off 15% through Aug. 10. Iceberg lettuce shipments from central California through Aug. 10 were down 15%, while romaine shipments were down 8%.
End-of-year outlook
Mark Montague, manager of industry pricing for Portland, Ore.-based DAT Solutions, said spot rates for refrigerated cargo have been running 15% to 20% down from record all-time highs a year ago. 
Contract rates for year-round commodities and frozen food also are starting to come down, he said.
Current strength in the transportation market is found in upper Midwest shipping areas.
Grand Rapids, Mich., with the apple harvest just beginning, was showing strength in mid- to late August, and truck rates also were moving higher in Wisconsin with the start of potato harvest and shipments of mixed vegetables.
Central California has been disappointing in terms of demand, he said.
"We had hoped, with all the rain last winter, that we would have a big harvest (this year)," he said, noting that perhaps non-refrigerated items such as nuts saw volume increases when fruit did not.
The outlook for the third quarter is subpar, he said, but there may some upward pressure on rates toward the end of the year.
The fourth quarter sees a bump in e-commerce traffic, and that can affect both dry vans and refrigerated vans.
In addition, he said that the federal exemption allowing the use of automatic onboard recording devices instead of the electronic logging device will end in mid-December. 
That is expected to have a tightening effect on truck capacity, Montague said. That tightening won't be as severe as the 2017 ELD mandate, but it is expected to have an effect on some small truckers.
In addition, refiners will be pressed to increase ultra-low sulfur diesel output in response to new regulations mandating its use for maritime vessels.
That is expected to push diesel prices higher in the last quarter of the year, as refiners make the transition to increased output of low sulfur diesel.
"It is kind of a wait and see thing, but it wouldn't be surprising to see the prices in December and starting out of 2020 move a little higher," Montague said.
Higher trending insurance rates are expected because of higher accident rates.
"One of the results of ELD was the truckers felt the need to rush trying to get worked on or deliver before they ran out of time, so some of the accident rates in the trucking industry have gone up," Montague said.
The combination of lower rates and higher insurance costs is expected to lead to an increase in small trucking company failures, which Montague said could reduce the truck supply in 2020.