AeroFarms co-founder Marc Oshima talks sustainability award
AeroFarms wins sustainability award in London. ( Courtesy of Ethical Corporation )
Newark, N.J.-based AeroFarms won the Responsible Business Award for Sustainable Innovation at the Ethical Corporation Awards, a Reuters event.
Members of the indoor vertical farming and agriculture technology company gathered Oct. 2 in Westminster, London, to receive the award, according to a news release.
The Responsible Business Awards recognizes companies that have developed sustainable innovation in a circular initiative or technology-enabled project. The awards program celebrates innovation that moves the company from a linear to a circular model.
"It's about how we can do more with less and how we can reimagine agriculture," said Marc Oshima, AeroFarms co-founder and chief marketing officer.
Other finalists included Tesco, ABinBev, ThermoFisher Scientific and Max Premium Burgers.
At the event, Paul Rice of Fair Trade USA won the 2019 Business Leader Award. Little Freddie, an organic baby food company, won the New StartUp Award.
AeroFarms is a Certified B corporation, meaning it's a business that meets standards of verified social and environmental performance, public transparency and legal accountability to balance profit and purpose.
"B Corps are accelerating a global culture shift to redefine success in business and build a more inclusive and sustainable economy," according to the B Corporation website.
AeroFarms is designed so that its operations and business can embody circular thinking, according to the release:
The aeroponic growing towers are a closed-loop system, recycling water and nutrients with little waste;
The patented growing system mists plant roots with nutrients, water and oxygen, using up to 95% less water than field farming to grow pesticide-free produce; and
The company's patented, reusable cloth medium is made out of 100% recycled materials for seeding, germinating, growing and harvesting.
In 2019, AeroFarms changed its mission statement to emphasize a commitment to do a lot more with a lot less, to lift the world's understanding of plant biology, and to enable local food production at scale all over the world.
"We firmly stand by the idea that business should fundamentally be a force for good and have designed our business model keeping in mind that all our stakeholders, like our plants, should thrive: from the environment to our community to our investors to our customers," AeroFarms CEO David Rosenberg said in the release.
Microgreens
The company also just launched two microgreen mixes — Micro Super Mix and Micro Spicy Mix — under its Dream Greens line of pesticide-free, non-GMO baby greens.
The super blend has kale and cabbage. The spicy blend has arugula and mustard greens. Microgreens are harvested earlier than their mature counterparts and are more nutrient-dense.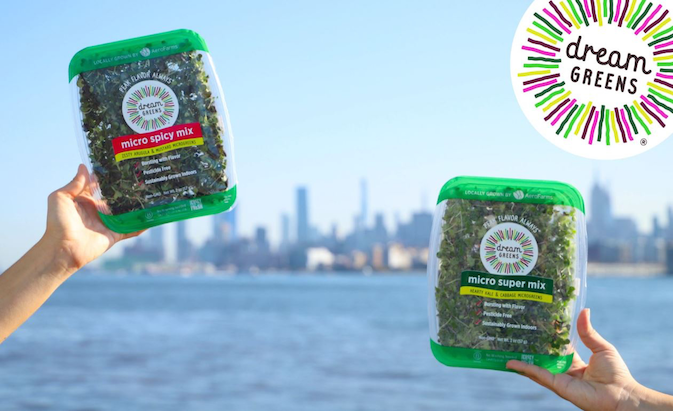 The products, which are pre-washed and ready to eat, are available at Whole Foods locations in the Northeast and at online grocer FreshDirect.
Related news: